If you're after a beach with wow factor, look no further than Bedruthan Steps. On the rugged north coast of Cornwall you'll find Bedruthan Steps, a beach with spectacular stately granite pillars jutting out of the sea. According to legend, these mighty hunks of rock were once the stepping stones for the Giant Bedruthan. At low tide the beach boasts beautiful golden sands and you can get up close to Bedruthan Steps as the sea slinks away to reveal them in their full form.
Bedruthan Steps beach at a glance:
> Sandy beach
> Steep narrow steps for access
> National Trust car park
> Toilet only open at certain times
> Not suitable for bathing
> Dogs allowed year round
The rocks are in a perpetual state of change thanks to the daily pounding by the Atlantic Ocean. Case in point: one of the rocks was named as Queen Bess Rock in the Victorian era thanks to its likeness to Elizabeth I. She wouldn't be happy with that comparison if she were alive today - erosion has since caused the rock to lose its head!
Getting down to the actual beach is tricky as you have to make your way down a steep, narrow set of steps set into the cliff. You'll need to take extra care with children or dogs and it's best saved for the agile among us. Even if you can't make it down though, the views from the clifftop are well worth the trek.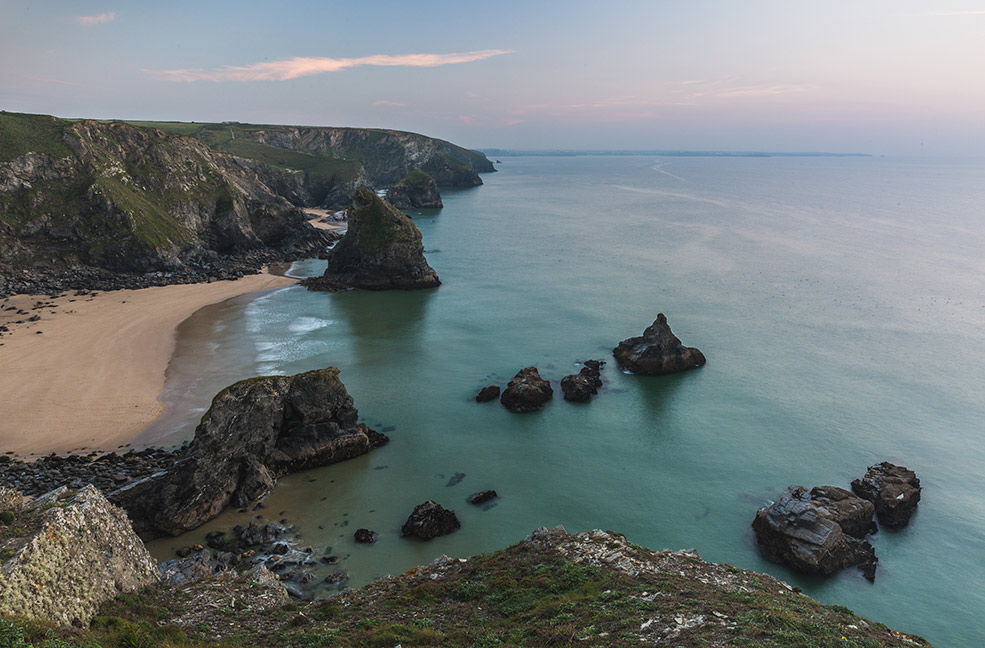 If you're feeling active, hit up the South West Coast Path and walk your way past sweet coves, gorgeous headlands and nonstop views of the Atlantic. Bird watchers should be sure to pack their binoculars as the granite rock stacks are a haven for all sorts of sea birds. Seek shelter at the small National Trust cafe and warm up with a cup of something delicious. If you feel like something heartier drive along the coast into Newquay for plenty more food choices.
But the best way to warm up after a chilly walk at Bedruthan Steps? A few hours at Bedruthan Spa! Inside you can warm chilled bones in the lavender caldarium, eucalyptus steam room and cedar wood sauna. But my favourite has to be the huge hydropool which is always set at the perfect temperature and boasts glorious views out to sea.
Hop out and into your robe, enjoy a fresh cup of Pukka tea and flick through a stack of glossy magazines, or better yet, treat yourself to a treatment. I booked myself in for a much needed back massage a few months ago and I'm sure I can still feel the benefits.
If you're braver than me you might like to combine this with a session in the Spa Garden. Inspired by fire, earth, water, air and space the idea is to stimulate your senses through temperature changes. I experienced this last year (though admittedly during warmer climes) and it was a nice change from the usual spa experiences on offer. Not sure I'd be brave enough for the cold bucket shower in the middle of winter though…