Nestled in the north east of England, Northumberland has been a wild frontier for thousands of years and witnessed some of the most pivotal events in history. The setting for some of the first Viking invasions and a key location for the progression of Celtic Christianity, it's fair to say that Northumberland is one of England's most interesting counties.
Known as the most castled county in England, its dramatic coastline is dotted with huge castles and fortresses, as well as more recent WWII defences, highlighting how important the county was during periods of conflict. Conversely, Lindisfarne (Holy Island) and the Farne Islands are of huge importance in the history of English Christianity, being home to a saint, the exquisite artwork of the Lindisfarne Gospels, and a point of pilgrimage.
Northumberland is also rich in untouched countryside, home to 62 miles of dramatic coastline, a 400 square mile National Park and a top Dark Skies site, making it a tranquil haven for wildlife and plants, as well as a natural playground for visitors. Whether you're interest lie in history, nature, or culture, you're sure to experience it at its best with the stunning Northumbrian scenery as your backdrop.
With so many fascinating places to visit, we've made planning an itinerary a little easier for you… Here's our pick of the best places to visit in Northumberland.
Lindisfarne (Holy Island)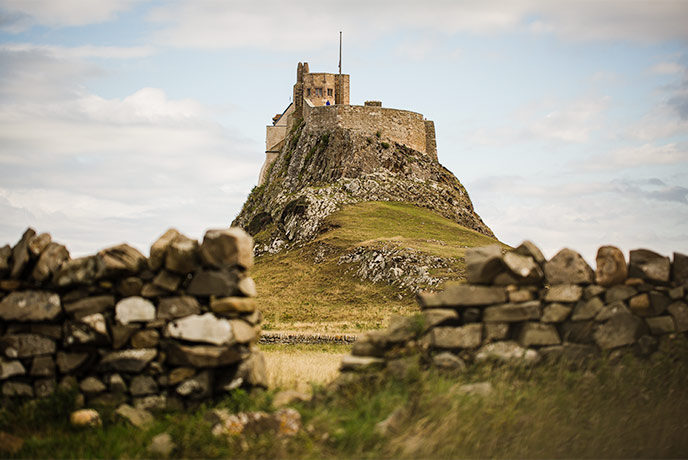 This incredibly important, pint-sized tidal island started life as a centre of Celtic Christianity dating back to the 6th century AD, when a monastery was built and run by a monk (who later became a bishop) called Cuthbert. During his life he was known for being a healer and in death miracles were said to occur around his shrine, causing the island to become a centre of pilgrimage.
It was also where the Lindisfarne Gospels, an extraordinary example of medieval art, were created. Unfortunately, the island was the site of the first Viking invasion, causing the monks to abandon the island, relocating to Durham (along with the saints' remains). Today, the abbey is a stunning ruin managed by English Heritage, with a fascinating museum on site where you can learn all about the abbey's history. Lindisfarne is also home to a castle that was pivotal during the Scottish wars of the 1500s, as well as the Jacobite Rebellion in 1715. Mainly it was used as a garrison, until 1901 when it was redesigned as a home, with the famous gardener Gertrude Jekyll designing the garden.
Less well known are the well-preserved Castle Point lime kilns and boat sheds (literally old boats turned into sheds) that are worth exploring. The island is also home to an array of wildlife, with the tidal mudflats, salt marshes and dunes a national nature reserve for over-wintering birds and seals. There's a selection of cafés, pubs and restaurants where you can get a bite to eat during your visit; just make sure you plan your visits around safe crossing times, as the causeway is only accessible at low tide.
Hadrian's Wall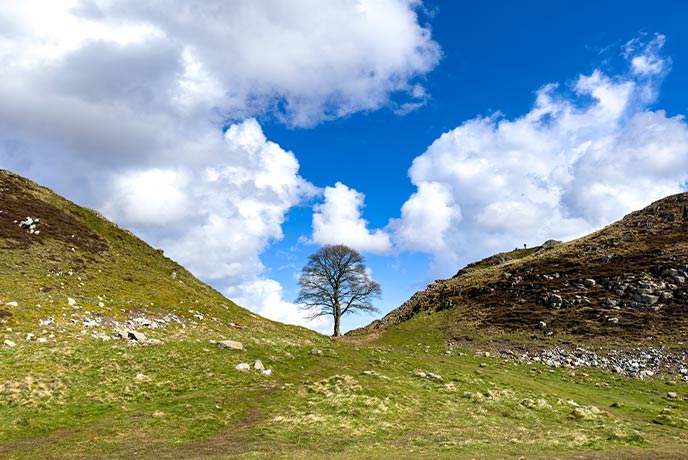 Spanning 73 miles of northern England, Northumberland is home to the longest stretch of the UNESCO World Heritage Site of Hadrian's Wall. Dipping and diving through some of the most beautiful and iconic landscapes, it was originally built back in AD122 by the Emperor Hadrian in an attempt to contain (or hold back!) the wild north-west frontier.
Scattered around the Northumbrian countryside are Roman forts, ancient temples, towns and bath houses that give a glimpse into life back in the Roman Empire – if you're lucky, you might catch archaeologists in action, uncovering more treasures of the past. Chesters Roman Fort, home to a Roman bathhouse on the banks of the North Tyne and a museum, is great to visit, while Housesteads Roman Fort, the most complete example of a Roman fort in Britain, has barrack blocks, a hospital and the oldest toilets you're ever likely to see.
Not everything was to do with battle and defence – the town of Corbridge was a supply base for Romans and was a vibrant community right up to the 5th century. Whether you like to cycle, hike or simply wander along the wall, there are plenty of trails and circular walks, such as the Hadrian's Wall Path or Hadrian's Cycleway, of which 33 miles wind through Northumberland.
Cragside House and Gardens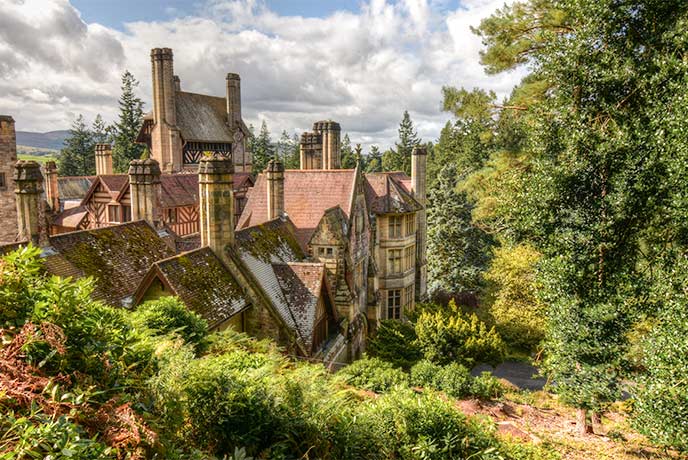 The original 'smart home', Cragside was built by an innovative couple, the Armstrongs, in the late 19th century. William Armstrong was an inventor, engineer and businessman who developed hydraulics and hydroelectricity while his wife Margaret was a keen gardener and philanthropist. Together they acquired Cragside and built a home and estate that embraced modern innovations such as a hydraulic lift and electric lighting – incredible considering it was the Victorian era.
The house itself is in the style of the Arts and Crafts movement and was made for entertaining with a huge Drawing Room, the Owl Suite with hot and cold running water, central heating and sunken bath for distinguished guests (the future King Edward VII stayed here) and a huge gallery that's home to a private museum along with artwork by the likes of Millais, Rossettini and Turner.
The gardens, created by Margaret, are a joy to wander through, covering over 1,000 acres of mountainous landscape which include formal gardens, a pinetum (a huge collection of different species of non-native coniferous trees, some of which are the tallest to be found in the UK), and an impressive rock garden. There's also a collection of fantastic walking trails (over 40 miles of them) in the wider estate should you want to stretch your legs – with man-made lakes, waterfalls and huge rhododendrons, it's like stepping into a fantasy landscape. Dogs are welcome in all of the outdoor spaces, plus there is a dog seating area in the café. The café and shop can be found in the visitor centre, while there's a great adventure play area for kids, who'll also love the rhododendron labyrinth.
Northumberland Coastal Path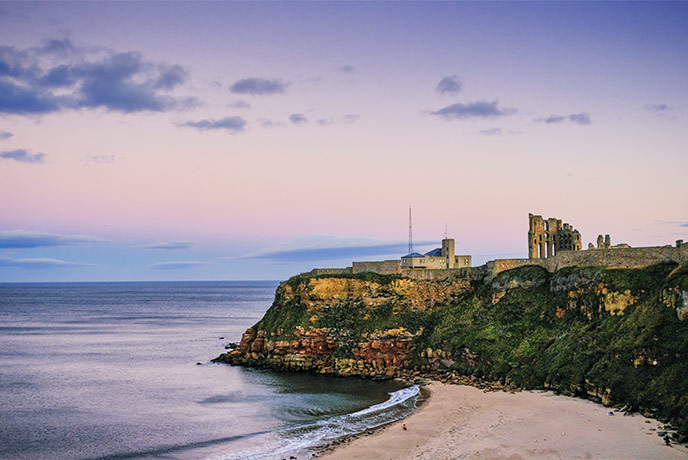 The joy of a coastal path is you can join it at any point and walk for as long or far as you want! The Northumberland Coastal Path is a magical walkway winding its way along the coast for 62 miles, from Creswell in the south of the county to Berwick-upon-Tweed in the north. With sigh-inducing scenery that includes vast sweeping beaches, rolling sand dunes, rocky headlands, nature conservation sites, austere castles and pretty coastal villages, there's plenty to see and do, alongside a history spanning over 7,000 years.
In comparison to its southern coastal paths (hello, Cornwall), this route is relatively easy, as it is fairly flat and passes through villages and towns as you go - the entirety of it can be walked comfortably in about 4-5 days. Alternatively, you can hop on and off it at any time, hand-picking the best bits to visit during your holiday.
An Area of Outstanding Natural Beauty (AONB), there are lots of highlights to choose from, whether you love pretty fishing villages (Alnmouth, Amble and Craster for example), expansive beaches (Druridge is a must), or castles (Bamburgh and Dunstanburgh are amazing), or why not simply choose a spot and discover it for yourself? Either way, you can't go wrong along this stunning stretch of coastline.
Alnwick Castle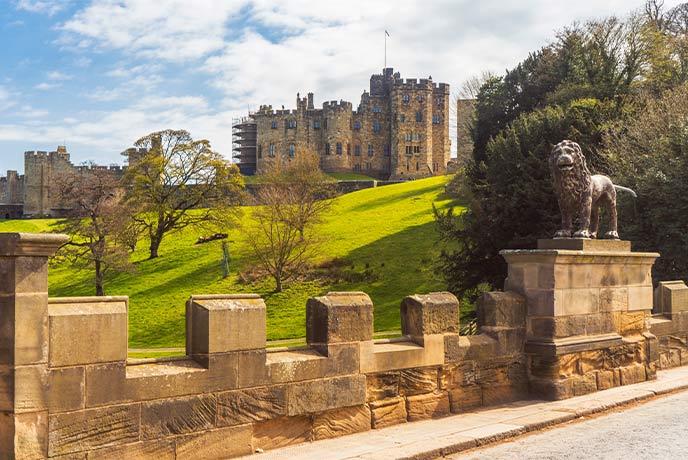 Described as the Windsor of the North, Alnwick Castle is the second largest inhabited castle in the UK and is the ancestral home of Duke of Northumberland's family, the Percys, for over 700 years. Once home to medieval England's most celebrated (and hot headed) knight Harry Hotspur, this is a castle that's rich in history and worthy of a day out.
Home to a vast collection of fine and decorative art, you'll discover works by the likes of Titian, Canaletto and Van Dyck, as well as beautiful ceramics and furniture. More recently, Alnwick has found fame as a film location, appearing in the Harry Potter films as Hogwarts and showcasing itself as Brancaster Castle in Downton Abbey – it has even made an appearance in a recent Transformers film!
The castle offers various tours whatever your interest, from film locations to arms and armour, while there are some fantastic interactive trails for children. Harry Potter fans will love the opportunity to take part in some broomstick training in the very spot where Harry had his lesson, with other special events and performances taking place throughout the year. There's a café for refreshments as well as a Victorian-style 'fryery' for fish and chips, plus two gift shops to pick up a memento of your visit.
Northumberland National Park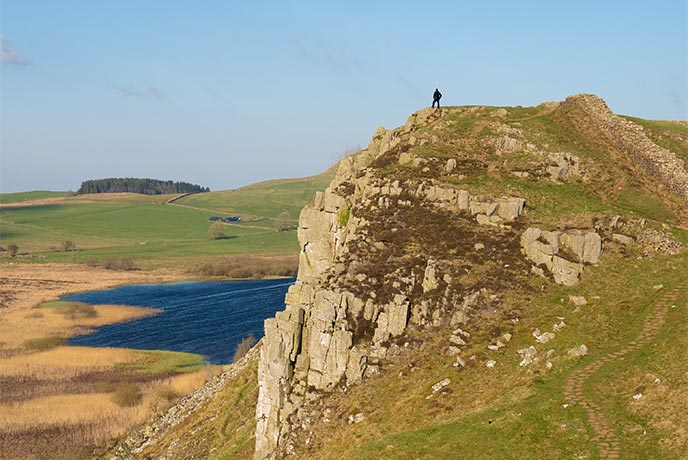 Covering more than 400 square miles, from the dramatic Cheviot Hills close to the Scottish border in the north to Hadrian's Wall World Heritage Site in the south, Northumberland National Park is a must-visit for nature and outdoor lovers. Quieter than many of the UK's national parks, this is the place to come for peace and solitude - where in a remote hidden valley, a home to wild goats, is so unique it only allows 12 cars to visit a day in order to preserve the clean air!
Whether you love hiking, mountain biking, wildlife-spotting, foraging, rock climbing, horse riding or trail running, or simply want somewhere special to sit for a picnic, this is the place for you. Head to The Sill, the National Landscape Discovery Centre on Hadrian's Wall, to get your bearings and enjoy panoramic views, then jump right in and find your own little piece of paradise, where the wilderness lives side by side with ancient burial grounds and even a mystical Roman temple.
For a truly magical experience, visit after the sun has set to make the most of the darkest skies to be found in the country, due to the park's very low levels of light pollution. With a plethora of Dark Sky sites across the park for perfect star gazing, it's an experience you'll never forget – keep an eye out for stargazing events that take place throughout the year at different locations (the incredible Kielder Observatory is one of the best stargazing spots in the UK!) or take a nighttime picnic and discover innumerable galaxies for yourself.
Bamburgh Castle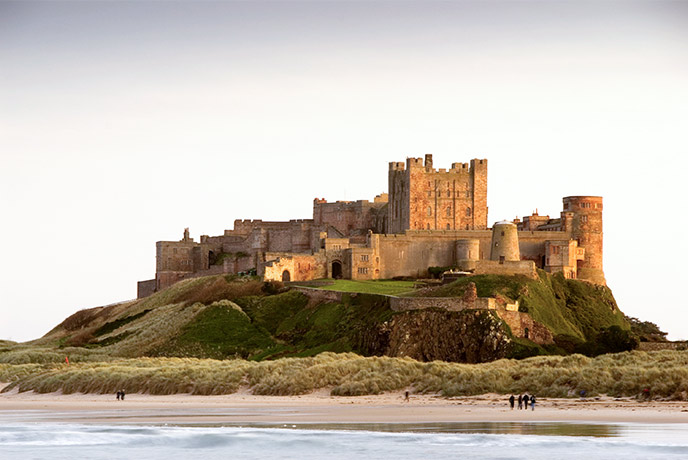 With a history spanning 1,400 years, Bamburgh Castle has a rich and chequered history, playing a major role in Britain's battles over the centuries, from the attack of the Vikings as far back as 993 to the War of the Roses. It's been the home of kings, with the likes of John, Henry III, and Edwards I through to III, all living here at some point. Bamburgh also has the rather dubious honour of being the first castle ever to be destroyed by gunfire.
After its use as a defensive castle ended, it moved from family to family, falling into disrepair and bankruptcy before a trust was formed to pay for its upkeep. During the 16th and 17th centuries it became a pharmacy, a hospital, a school and a mill for the local inhabitants, while interestingly huge leaps in seafaring were developed here, and the castle was turned into a coastguard station. In 1894, the castle was bought by William Armstrong (of Cragside fame, see above) who fully restored it and made it a family home again.
A visit will find you wandering through state rooms and over a thousand years of history, with the King's Hall, Keep and Armoury particular highlights. There's also an archaeology museum, reflecting the castle's importance as an Anglo-Saxon dwelling, with lots of rare finds on show, as well as a museum about William Armstrong and his inventions. Step outside and the grounds boast lovely sea views, being 45 metres above sea level, with lots to explore such as a ruined chapel, windmill, canons and medieval games. It's well worth exploring Bamburgh's stunning area as it's a haven for wildlife and naturalists. Well behaved dogs on leads are welcome, and there are two cafés on site to fill hungry tums.
Northumberland's beaches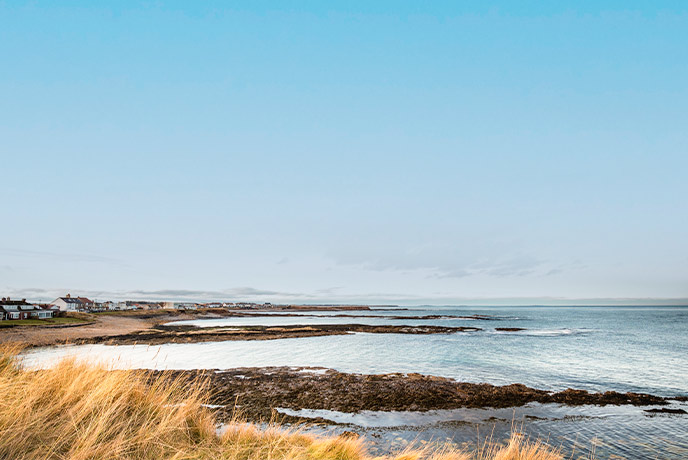 Northumberland spans the dramatic coastline of north west England and is well known for its beautiful, expansive beaches of golden sand and gentle slopes into the sea. Bamburgh beach is a top favourite for windswept walks in winter, and swimming and sandcastle-building in summer, with the huge castle dominating the skyline and creating a dramatic backdrop.
Embleton Bay is wilder and unspoilt, backed by low dunes with lots of plants and birdlife, with Dunstanburgh Castle ruins in the distance. Druridge Bay is a massive seven-mile stretch of golden sand, running south from Amble to Cresswell, where you'll discover remnants of defences placed here during WWII alongside fantastic wildlife. This is a great beach for walking, surfing and kite surfing.
Meanwhile, Beadnell Bay is a gorgeous horseshoe-shaped bay that forms a natural harbour, backed by fields and grassy dunes and is popular with visitors for swimming, surfing and sailing. Other great beaches include Warkworth and Seahouses, though there are plenty more to choose from. If you have a dog, the great news is that most of these beaches allow dogs, with some requiring them to be on leads at certain times due to breeding wildlife.
The Farne Islands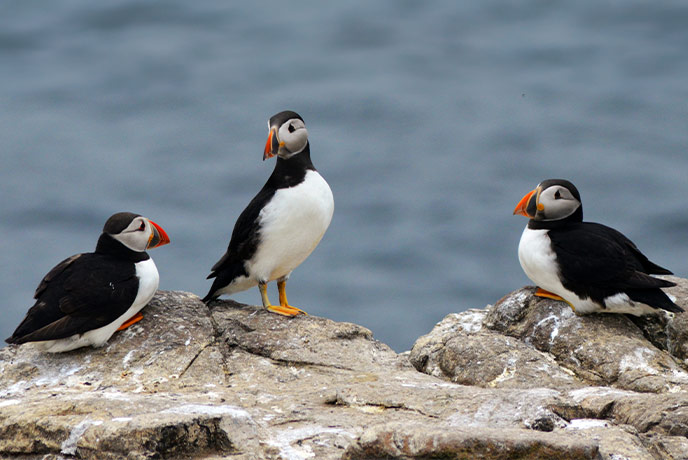 Nestled two to three miles off of the coast between the village of Seahouses and Bamburgh Castle, the Farne Islands are made up of about 15-20 islands. Their uniqueness is due to the huge population of seabirds that visit here during mating season – it's estimated that 23 species and around 150,000 birds land here between April and July, with 43,000 of these being puffins.
It's also one of the most important grey seal sites in England, with more than 2,000 pups born here every autumn. Humans have frequented here too – the island of Inner Farne has a medieval chapel and a Victorian lighthouse, and it is said that St Cuthbert lived here in the 7th century as a hermit after leaving Lindisfarne. Another name associated with the islands is Grace Darling, a lightkeeper's daughter from Longstone Island who rescued nine people from a wreckage in 1838, aged just 22, and gained national fame.
Today the islands are owned by the National Trust, and although you can't currently land on the islands due to Avian Flu, you can go on lots of different boat tours with Serenity Farne Island Boat Tours and Billy Sheil's Boat Trips where you can spot dolphins, seals, puffins and a host of other seabirds.
Kielder Water and Forest Park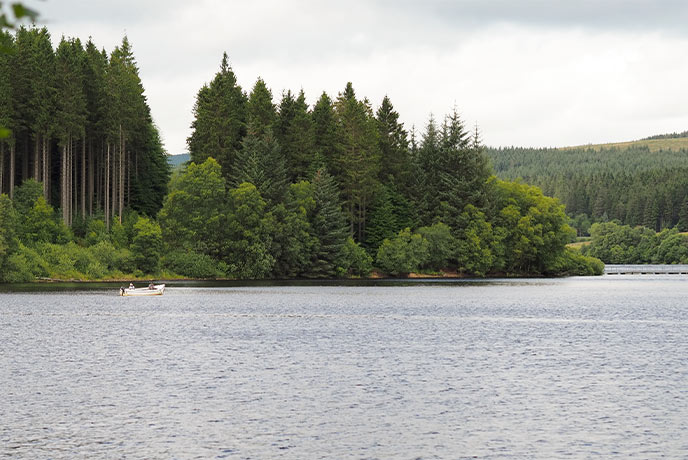 Pay a visit to Kielder Water and Forest Park and you'll not only discover England's largest forest, but the largest man-made lake in northern Europe too! A true haven for wildlife, the park is home to about 50% of England's native red squirrel population, and three osprey chicks hatched back in 2009 – the first to be successfully reared in the wild for 200 years.
Today, there are six breeding pairs in the forest, which is a fantastic achievement. Alongside squirrels and ospreys, the forest is working on growing the water vole population and it's home to other rare species such as the pipistrelle bat, roe deer and salmon otter. For visitors, Keilder is a dream for walking and cycling, with forest walks and mountain bike tracks galore, plus the Lakeside Way, a 26-mile multi-use trail that's also suitable for wheelchair users, that circumnavigates Kielder Water.
On the water itself there's water skiing and sailing, while if you enjoy fishing, there's the opportunity for trout anglers between March and October. For art lovers, take a wander through the forest and you'll discover beautiful pieces of art and architecture dotted around the landscape, while Kielder Castle, the old hunting lodge for the Duke of Northumberland, is home to an art gallery, exhibitions and a visitor centre.
Keen to discover Northumberland for yourself? Take a look at our beautiful holiday cottages and start planning your escape today.