Ensuring everyone can make the most of watersports in Cornwall, Children's Sailing Trust is a local charity we were thrilled to get involved with.
About Children's Sailing Trust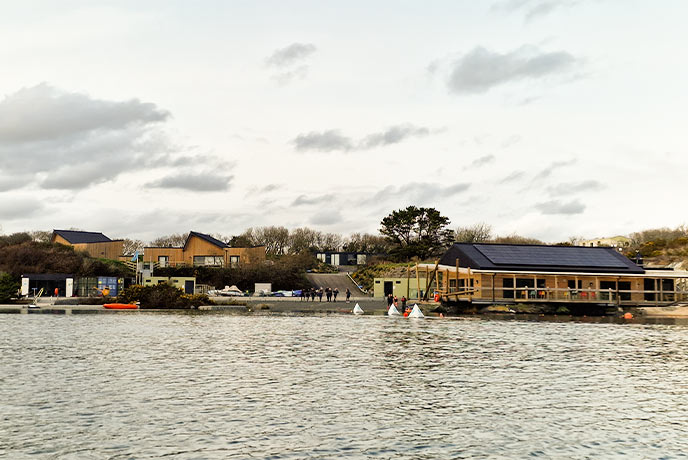 Children's Sailing Trust is an incredible watersports centre that specialises in getting people out on the water regardless of age, ability, or disability. They have a range of equipment, including kayaks, paddleboards, and dinghies, and excellent instructors who offer encouragement and expertise. You can even visit their beautiful Trevassack Lake on Tuesdays and Sundays for a refreshing dip in the wonderfully fresh waters of the lake!
Surrounded by the coast and with lots of great lakes and rivers, Cornwall has lots of places where people can make the most of the water, but these spots aren't always accessible to all. This makes trusts such as this one so incredibly important, as it provides everyone with the chance to experience the many benefits of being on the water, whether at Trevassack Lake near Helston or on Helford River.
Alongside school visits and private hire, the lake can be enjoyed shoreside at the mouth-watering café, which is run by the Cornish Food Hub. Serving up everything from brunch and lunch to a Cornish coffee and a cake, the lakeside café is the perfect place to unwind and watch the world go by – you might even get some entertainment from the water!
Our volunteering day at Trevassack Lake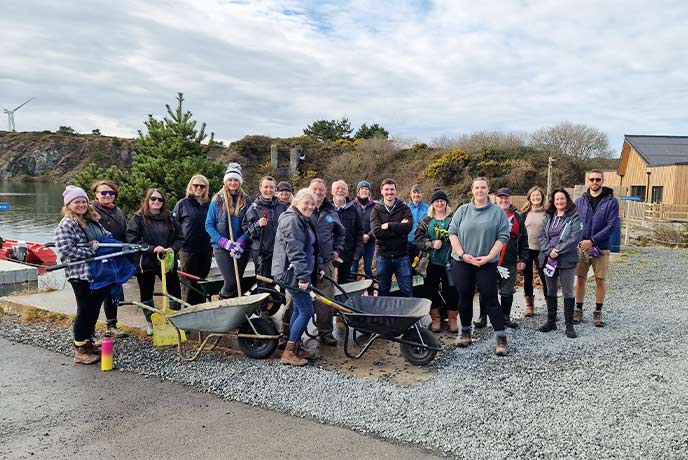 With our roots planted firmly in Cornwall, Classic Cottages enjoys giving back to the local community in any way we can, with volunteering one our favourite methods. These days can be spent volunteering in any number of ways, from beach cleans to lending a helping hand at food banks.
Getting ready for a summer full of smiling faces and peals of laughter, there was plenty to do at Trevassack Lake during our recent volunteer day. An overgrown island was soon to be the home of a forestry school, so some of our hardworking volunteers headed over via boat to clear some pathways through the gorse.
Back on land, the rest of the team was split into two groups for a morning of weeding along the entryway and around the trust's incredible man made beach – oh yes, those pesky weeds will grow anywhere! The afternoon was spent clearing and spreading a mammoth mound of topsoil, which had been generously donated to the trust. It was satisfying work watching the mountain return to a mole hill as the surrounding borders were covered in some fresh soil.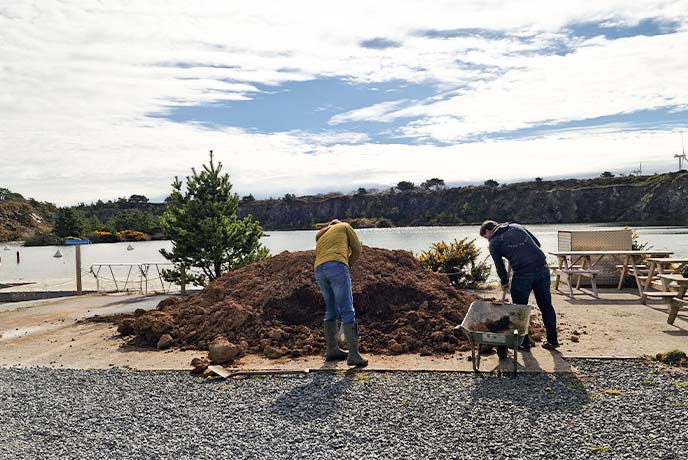 During the day, we were treated to an incredible lunch at the café as well as a swim and a go on the SUP boards. The waters were wonderfully refreshing and provided the perfect tonic after a day of hard work.
While working, we chatted to the lovely members of staff and regular volunteers. Their passion for their work was infectious, as was the chorus of joy coming from the lake as students enjoyed their lessons. The work the trust does really is special, and we were truly honoured to get involved for the day.
The team at the Trust were thrilled with our efforts, saying "Wow, what a fabulous achievement by everyone – the Children's Sailing Trust team are truly delighted with the outcome of today and we are so grateful for your support and incredibly hard graft!"
If you would like to visit Trevassack Lake, or you would like to get involved with their tremendous cause, simply visit their website to see what amazing things they have going on.