From classic fish and chips to freshly baked treats, these roving restaurants know how to treat your taste buds while you're on holiday in Cornwall.
Ever stumbled across a gem of a restaurant in a place that you really didn't expect it? That's how we feel about these catering companies who tour their culinary skills around Cornwall throughout the year. You'll find them on the edge of the harbour, at the heart of the village or even tucked away in the sand dunes. You might only see them once on your holiday so rush in quick to get a taste of their amazing food before they whizz off to their next quintessentially Cornish location.
A festival favourite: regularly attending events across the county, like Porthleven Food Festival. The Shellfish Pig make some incredible food to keep up your energy on those long festival days. Keep your eyes peeled for your chance to try some tasty pulled pork rolls or traditional Cornish crab sandwiches.
If you're after a proper cup of tea, The Thirstea Co. have got you covered. With freshly-baked cakes and treats served out of their pretty van, Earl, near Towan Beach on the Roseland, your situation could not be more perfect. Just chill out in the sunshine after wandering along the coast path.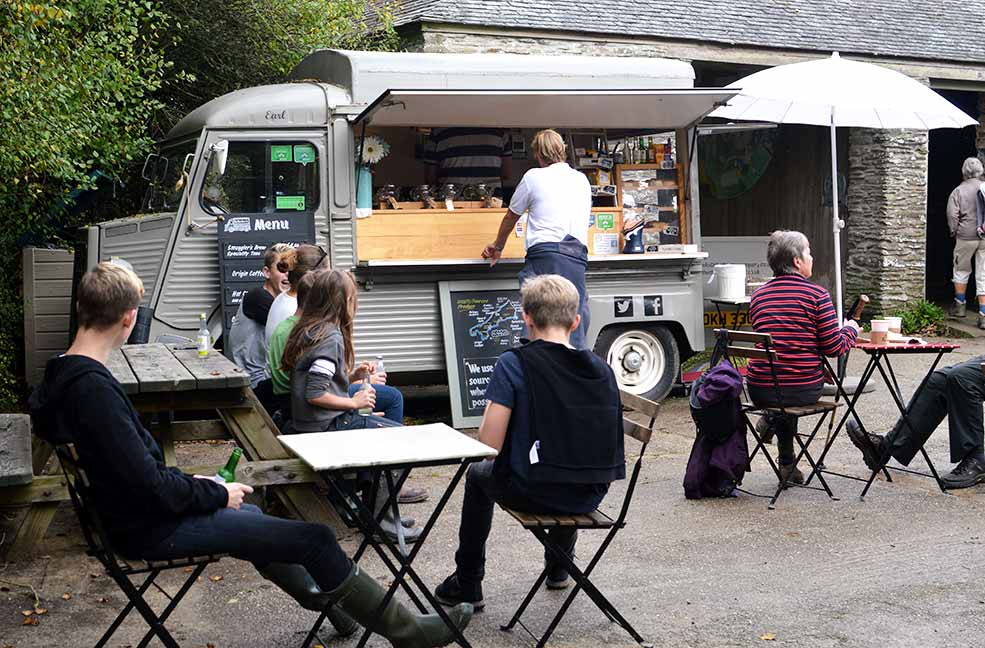 Possibly our favourite location of all the food vans, the Hungry Horsebox is based on Gwithian beach on the north coast. Sit back with a cup of tea and a slice of cake and marvel at the beautiful view over to St Ives. The Hungry Horsebox team are also running lots of special events throughout the summer months, check out their website for details of surf cookouts and feast nights that'll get your taste buds tingling.
Twin sisters. German recipes in honour of their heritage. A van called Beyonce. This is girl power at its finest. Kern serves up teas, coffees and beautiful baked goods inspired by German recipes. Find these lovely ladies at Grogley Holt on the Camel Trail, perfect for a mid-bike-ride rest.
The daddy of fish and chips (teehee). The Cornish Codfather makes the rounds to a number of locations across Cornwall all year long. Find him in Stithians, Flushing and Mawnan Smith to name but a few. Keep yourself up to date on the van's whereabouts via the facebook page. Who doesn't love a classic Cornish chippy tea?