Do you like burgers the size of your head? With lashings of extras and big USA-inspired flavours?
Speaking of which, does Americana decor float your boat? What about Hawaiian punch and Snapple and a whole host of USA craft beers? If the answer is yes, you need to book yourself a table at Boo Koos in Helston, pronto!
I'm not being glib with the booking recommendation, either. We went on a weeknight in September and booked out of habit more than anything else. But when we arrived to a packed-out restaurant with people jostling for tables (and booths, of course) it would be a lie to say I didn't feel the tiniest bit smug. Well, my friends, that smugness was about to reach whole new heights in an hour or so.
I'll confess: I hadn't heard of Boo Koos before. Perhaps that doesn't surprise you, perhaps you're not the sort of person to follow the restaurant scene in Cornwall with the hunger of a particularly greedy Labrador. But I'm an ardent attention-payer to all things Cornish food, and in particular, when it comes to vegan food offerings. I've been vegan for some three years now and in that time, I've watched the county go from "is cheese not vegan?" to being offered vegan-ised fine dining tasting menus at some of Cornwall's most accomplished restaurants. All this to say: I was surprised I hadn't heard of Boo Koos.
But I was utterly bowled over by its separate vegan menu of deliriously delicious sounding USA-themed treats. So, as I said, off we trotted on a Monday night and were greeted by a friendly waitress who showed us to our booth.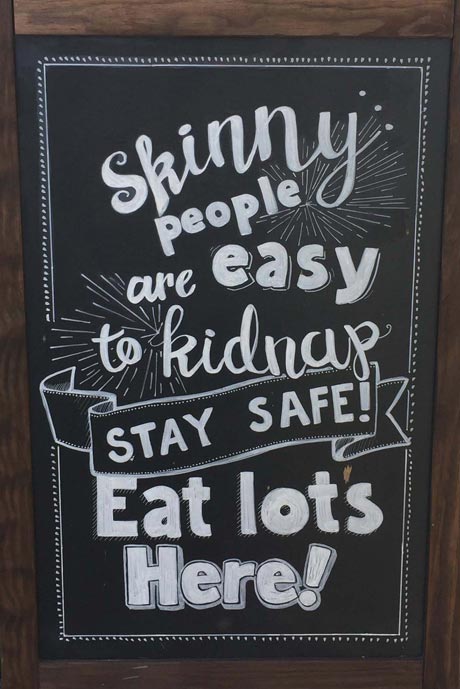 Here we perused the long drinks menu which featured everything from frozen margaritas and curly wurly ice-cream shakes to Vardy's moonshine and US imported Cherry flavoured Dr Pepper. To say the team at Boo Koos had gone all in on the authentic American vibes would be an understatement. And that's before you even look at the decor – which is packed to the rafters with USA memorabilia.
I ordered a Corona and my husband couldn't resist trying the Moosehead. Call me boring, but I'm never disappointed with a cool Corona. Whereas a sip of the Moosehead reminded me of an eternal truth: American's can't do beer (sorry).
After twenty minutes or so, our meal came out and I was practically drooling at the sight of it. Here's the thing: as a vegan, most restaurants assume you are in it for the health benefits and plan their menus according. While I'm down for a big bowl of salad a lot of the time, it doesn't mean I don't appreciate good old-fashioned junk food too.
We shared a portion of vegan chicken nuggets, which we dipped greedily into hickory smoked BBQ sauce. I had the BBQ lentil and mixed seed burger, a monster of a burger that came topped with chipotle chilli, relish and plenty of pickle. My husband had the sweet butternut and chickpea burger which came with an absolutely gorgeous spicy sweet Mexican adobo sauce.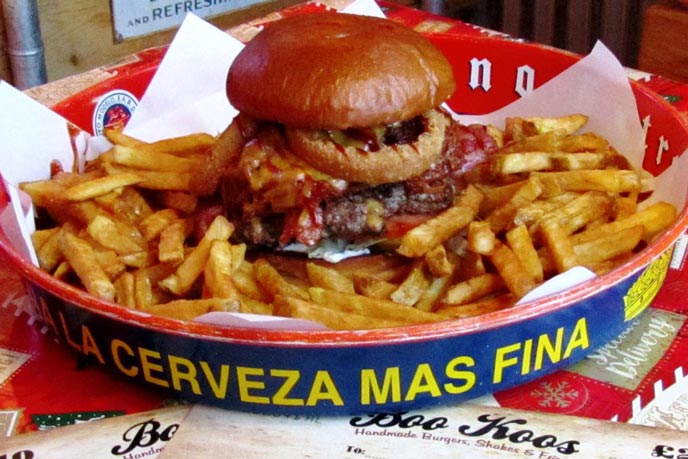 We shared the 'side of fries' which first the menu advised as "Warning: TEXAS style portions". Even the waitress was keen to assure us would be plenty for two. I was sceptical, but as usual, the experts know best and we couldn't finish off the trough between us.
We left absolutely full and totally enamoured with Boo Koos. On my way out, I said it was such a shame we lived over an hour away. Though where my waistline and bank balance are concerned, perhaps it's for the best.