Asked to describe my day at Philleigh Way Cookery School in one word, I would say - joyful.
A stunning drive past Trelissick Garden, with mist sitting atmospherically in the valley, then down the hill and on to the King Harry's Ferry. The child-like thrill of riding across the short stretch of the Fal river, chain link by chain link, with the mist settling over the water. It was picture perfect.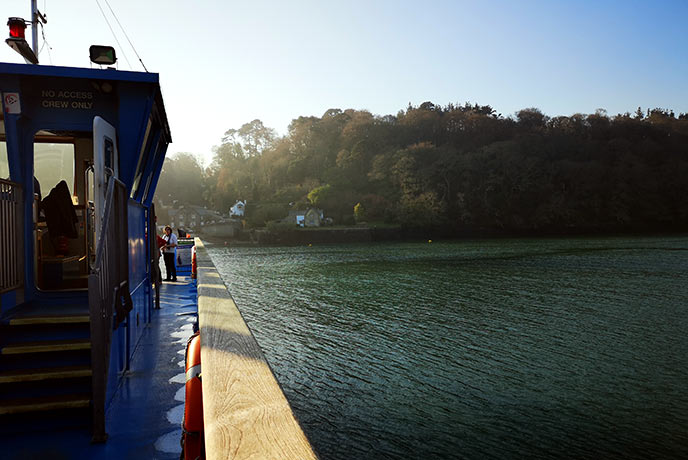 A short drive up the hill from the ferry, I find the Philleigh Way cookery school nestled between the micro brewery and the Roseland Inn. The school is set in tranquil Roseland countryside, and gives an instant feeling of getaway relaxation, a pheasant walking nonchalantly past the window, sets the laid-back tone.
The school organised a civilised 10am arrival time with a welcome spread of warm buttered Hot Cross Buns, tea, coffee and juice. Rupert Cooper, an ex professional rugby player, was our chef and instructor. Having recently taken over Philleigh Way, Rupert has deftly traded the team work and tactics of the pitch, for the timing and precision of the kitchen, and is brimming with new ideas to bring food, friends and family together.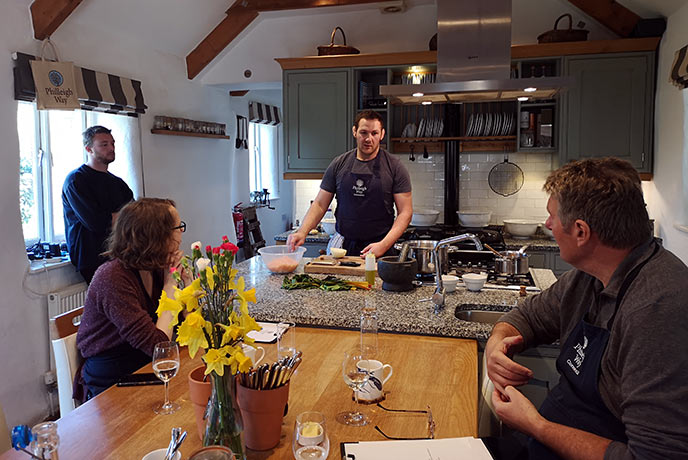 The school offers cookery courses on various different themes (fish, French, bread making, jams & preserves, vegetarian, vegan, Asian thai, and curry, amongst many others) and includes pop up dining. In the summer this is al fresco in their trestle tabled courtyard, perfect for hog roasts or pizza in the large authentic pizza oven. Rupert enthused about the bespoke dining experiences they can create; he suggests different members of a party could make different courses, then come together for a feast finale. Rupert believes that shared experience and sense of community underpins a long and happy life. The term 'Blue Zones' has been coined for places around the world chosen for their remarkable longevity and health, and these all share the common factors of close relationships, belonging and purpose. Philleigh Way offers the opportunity to create a mini Blue Zone of your own, coming together with friends and family to cook and eat.
The theme for our day was Italian. Rupert is keen to emphasise local Cornish foods in season, which married well with the Italian philosophy of simple unfussy recipes.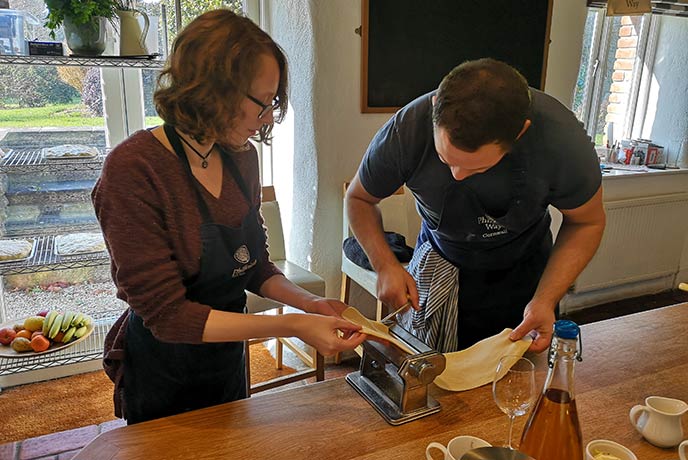 The first task was Focaccia, I relived childhood play, kneading the flour, semolina, yeast, salt, water and copious amounts of olive oil into a playdough consistency.
More childhood excitement followed when the pasta rollers were brought out. Pasta dough was revealed to be surprisingly stretchy and resilient, and having previously dismissed making my own pasta as laborious and time consuming, I found myself an unexpected convert. It's hugely satisfying, rolling longer and longer sheets to ever stretchier lengths. We then packaged up neat little ravioli parcels, beautifully stuffed with pork, orange zest and fennel.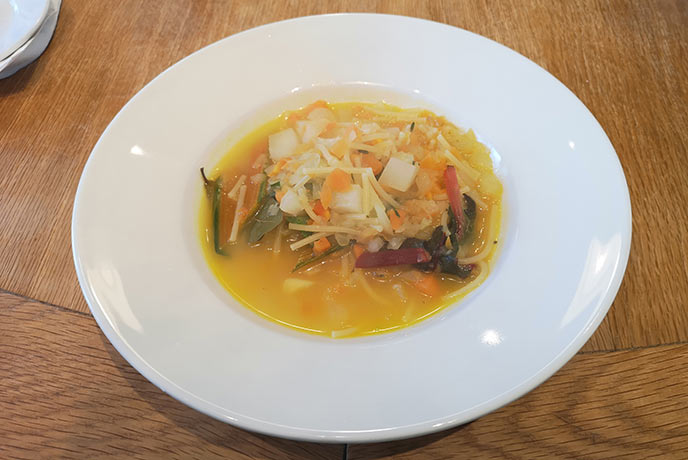 Rupert showed us how to perfect THE BEST tomato sauce, a spring board to an infinite number of Italian dishes. We made creamy mushrooms with just the right balance of tangy lemon and caramelised onions, and finished with Tiramisu, made with hand-whipped cream, the authentic way.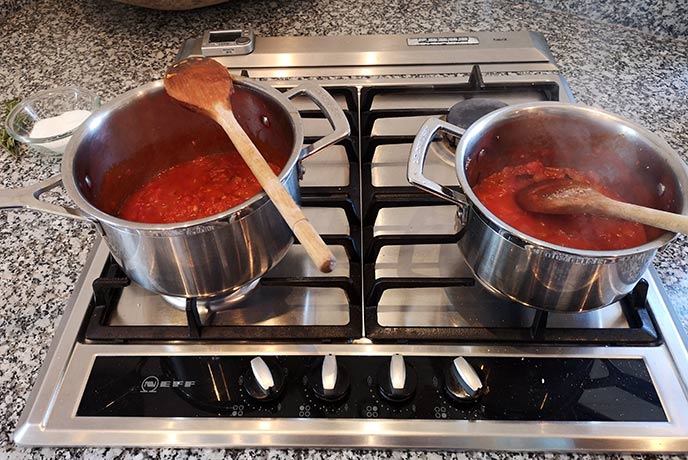 It's fair to say since having children, my love of cooking has taken a serious knock. Long gone are the experimental dinners and spicy dishes of my 20s and despite our firm house rule 'Never be negative about dinner… we don't say I don't like…, do we?" the walls inevitably ring with 'But but it's got ONIONS!!" A whole grown-up day, being led by Rupert's expertise was so refreshing. I left feeling full, very content, and with, just possibly, a sense of re-widening my culinary horizons. Back on the ferry home as we slowly ratcheted along the chain, dolphins swam close by, fins rising briefly out of the water, the final ingredient for a perfect day.
Inspired by my adventure? Stay nearby in one of our holiday cottages on the Roseland peninsula.