A BBQ on a beach or field can be one of the joys of life. Nothing beats the smell of cooking sausages after a full day of fun and activity. You need to be responsible and fully clear up after yourself, and it's worth going when there are less people around. I've mainly focussed on quieter spots on this list. So, grab your buns and burgers and follow my guide to the best places in South Devon for a BBQ.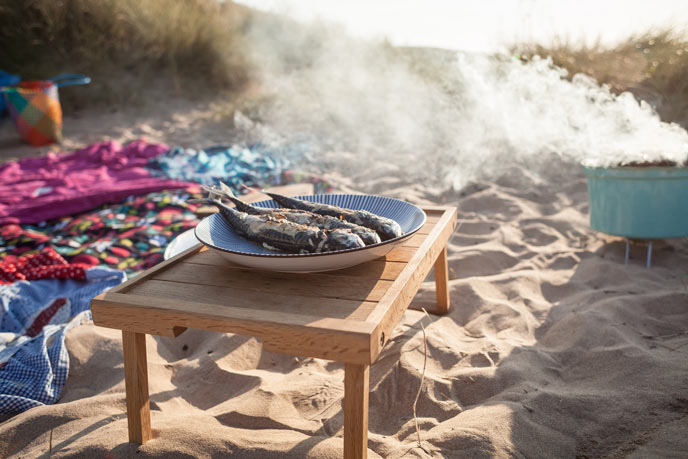 Oyster Cove
Lying halfway between the busy beaches of Goodrington Sands and Broadsands, this small cove tends to get completely overlooked. Despite being in the centre of Torbay, it is nearly always deserted. It's my family's favourite spot for a cook-out. On many evenings we grab a disposable bbq and head down, and, even on sunny evenings, we're usually the only family on the beach.
Spitchwick
On sunny days, this beautiful forest clearing can get busy, but it is somewhere where people expect to see people barbecuing so no-one ever seems to mind. This is one of the most stunning spots on the whole of Dartmoor. The Dart River curls around a patch of soft grass, and the trees frame the whole scene perfectly. People queue up to hurl themselves off the granite cliffs into the clean fresh water, and families often play ball games on the grass. It is a busy, friendly, sociable place where another person barbecuing is always welcome.
Ness Beach
Ness Beach is a wild, adventurous place. The long smuggler's tunnel which takes you to the beach sets the scene. My family often come here for a BBQ. My children clamber over the wild rocks and we all gather driftwood to add to the fire. Ness beach is a stone-skimming, wave-splashing, fire-starting, driftwood-gathering kind of beach.
Teignmouth Back Beach
Despite living in the area, it took me a while to discover Teignmouth back beach. I find that Teignmouth presents two faces to the world. There is the long front beach, with its promenade, play parks and ice-cream sellers, and then there is the back beach. Although it's only small, the back beach is a quirky, friendly, laid-back kind of place. It sits in Teignmouth's art quarter and this lends it a bohemian vibe. There is often music playing and people paddling. People spill onto the beach from two great pubs, The Ship and The New Quay Inn. The back beach is a great place for a BBQ as you watch the boats come and go on the Teign River.
Shaldon Beach
Directly over the river, and facing Teignmouth back beach, is Shaldon Beach. Shaldon itself is an absolute gem of a village. It is full of colourful houses and fishermen's cottages. The beach stretches along the Teign Estuary, and is a good mixture of pretty pebbles and soft sand. After a short explore of the delightful village, why not settle on the sand for a sausage sizzle.
Elberry Cove
Elberry Cove is another small pebbly beach which gets overlooked in favour of its sandier neighbours. Which is a shame because Elberry Cove has a charm all of its own. It is covered in stunning white pebbles, and harbours a large seagrass bed, which is home to seahorses, pipe fish, cuttlefish and flatfish. It makes a great place for a BBQ, with its fine views across Torbay.
South Milton Sands
My children and I have spent many happy hours at South Milton Sands. It has a great stream which we have regularly tried to dam, as well as lovely soft sand and magnificent views. This is a quiet, unspoilt spot but it also has toilets and a great café. You probably won't need the café if you're planning on organising your own BBQ, but it's useful to know it's there, just in case you run out of drinks!
Need somewhere to stay nearby? Have a look at our Devon cottages near the beach.