Nestled between Truro and Perranporth, Nancarrow Farm is a beautiful part of the world. Playing host to weddings, parties and events, the farm has quickly become a popular venue for holiday visitors in Cornwall. Nancarrow also run their own feast nights. We went along to the Midsummer Feast and were not disappointed…
From the moment of booking, every step of the Midsummer Feast was laidback, relaxed and easy, just like a holiday in Cornwall. The confirmation email included directions and important information for the evening as well as the menu, which was just incredible.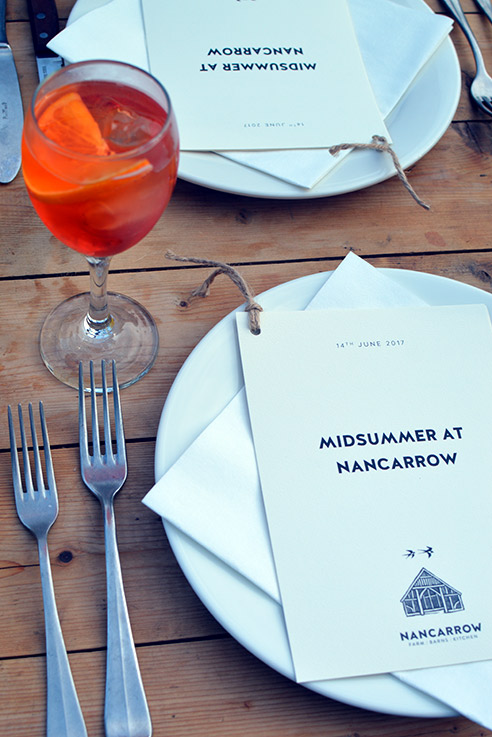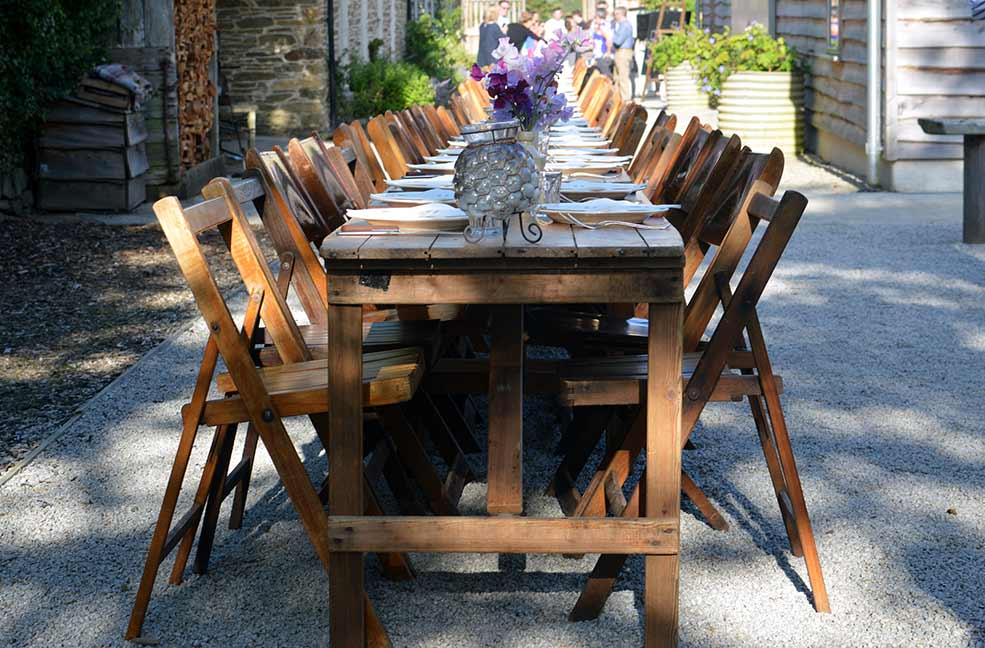 We were greeted at the farm by Heather, the Events Manager at Nancarrow, and with a glass of elderflower prosecco in hand we were invited to stroll the courtyard enjoying nibbles and seeing our main course roasting on an asado cross.
It couldn't have been a better evening for midsummer dining: the sun was bright, barely a cloud in the sky and warm. The good weather meant we were dining outside at a long banquet-style table. Each place had been carefully made with a printed menu and fresh flowers lined the table. There was even a seating plan for all guests. We were encouraged to chat to our neighbours and everyone present was very much caught up in the family feeling of the evening.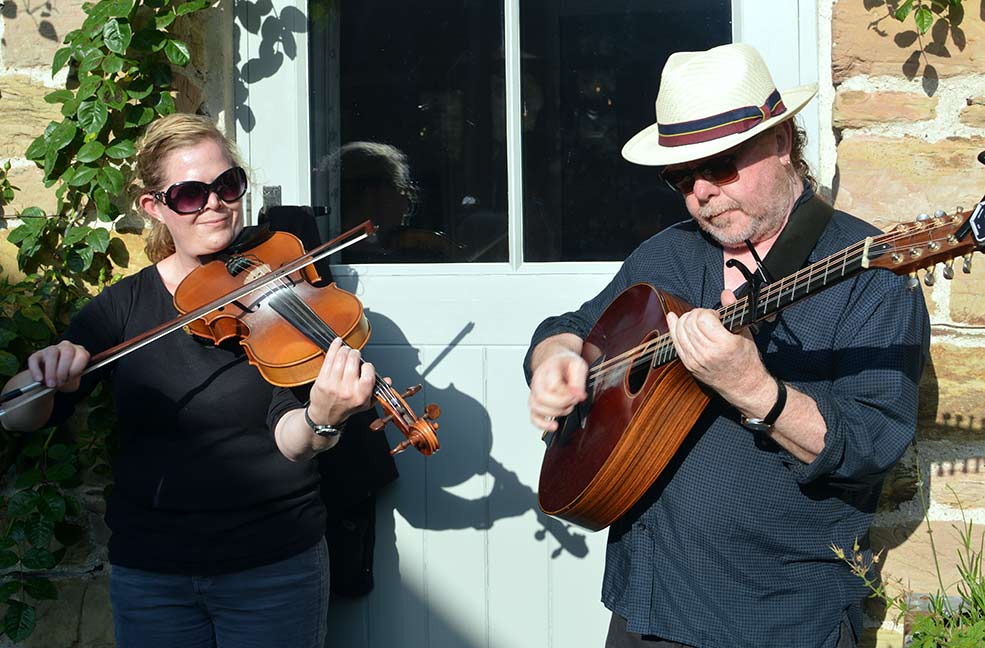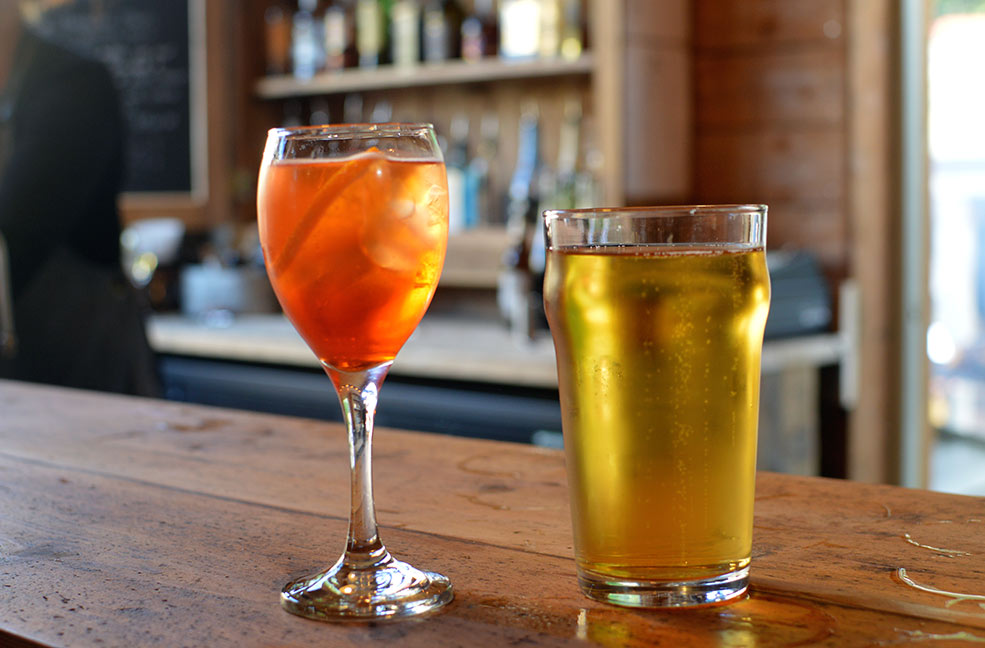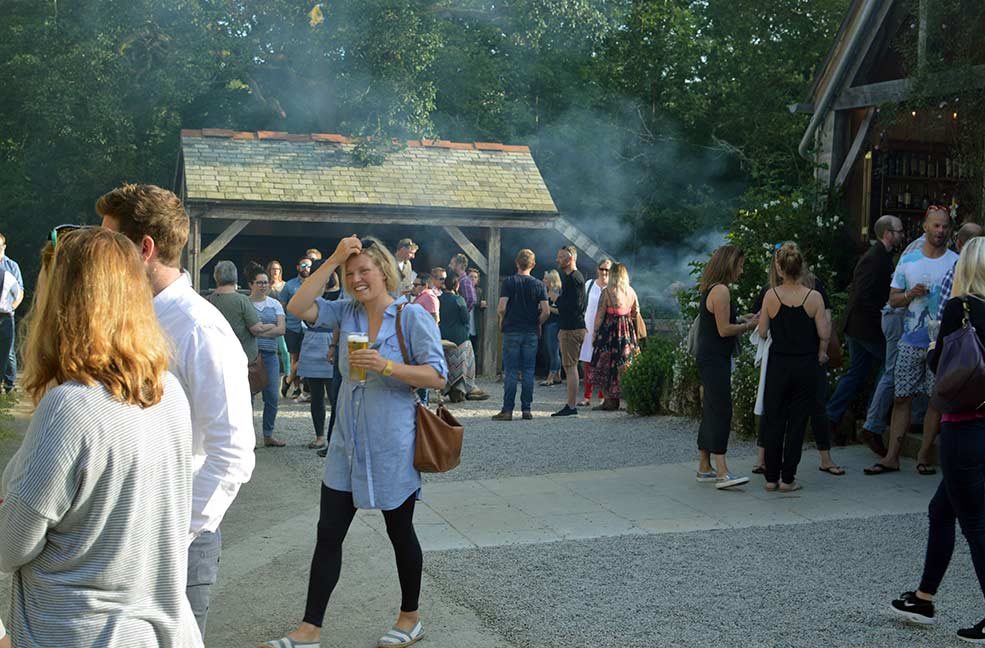 After exploring a little and picking up another drink at the bar (homemade cocktails, yum), it was time to settle into our seats. Steve, the owner at Nancarrow, introduced the evening and welcomed chef Darren to talk us through the mouthwatering menu.
Roasted cauliflower | Miso satay | Onion caramel | Coriander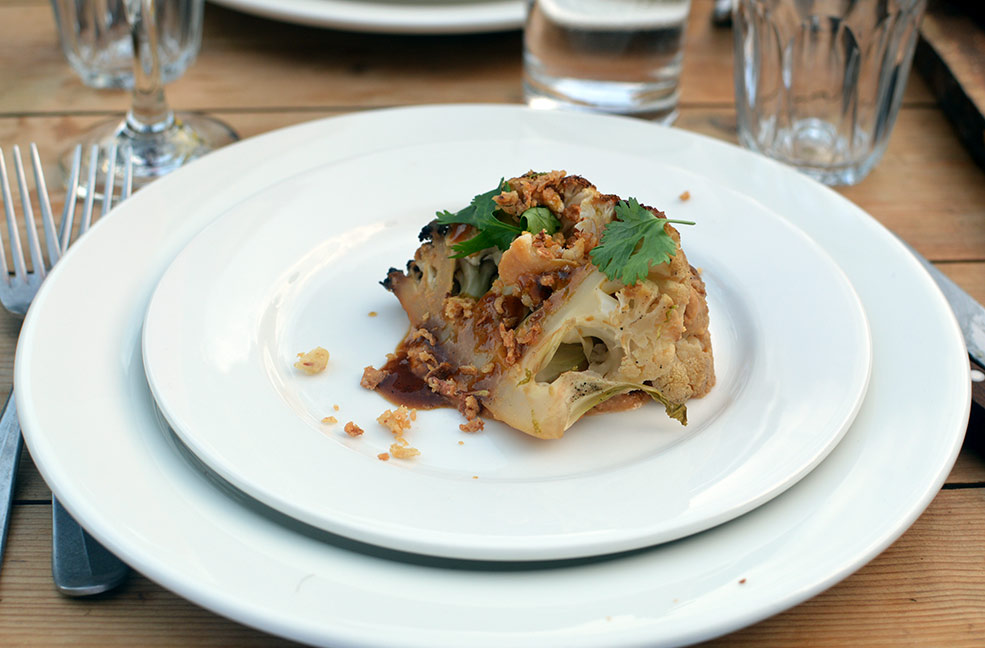 I'm not normally a fan of cauliflower but the mix of roasting and the satay gave this such a beautiful flavour. A very simple yet elegant starter.
Asado roasted ribs of beef | Chimmi Churri | Roasted Red peppers with cider vinegar and golden marjoram | Burnt tomatoes, charred spring onions and giant whole wheat cous cous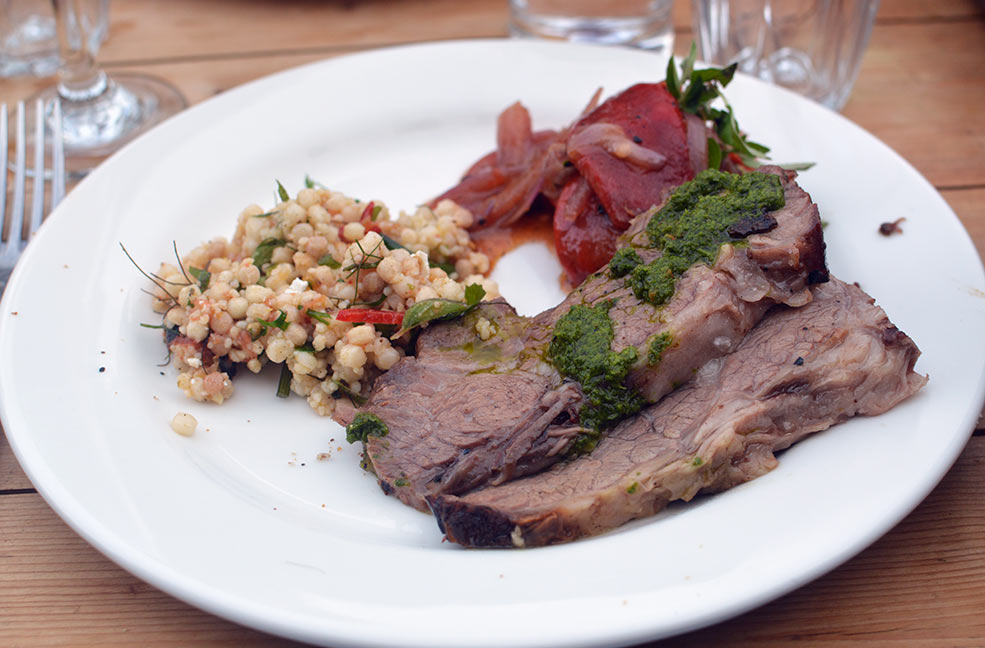 The real talking point. After watching the meat roasting over the fire to seeing it presented in a dish on our table was so rewarding. I love the feeling of seeing your food cooked before your eyes and then being served to your table. Good local produce tastes the best and is best consumed in a beautiful place, of course.
Lemon verbena soaked strawberries | Meringue | Sheep's yoghurt mousse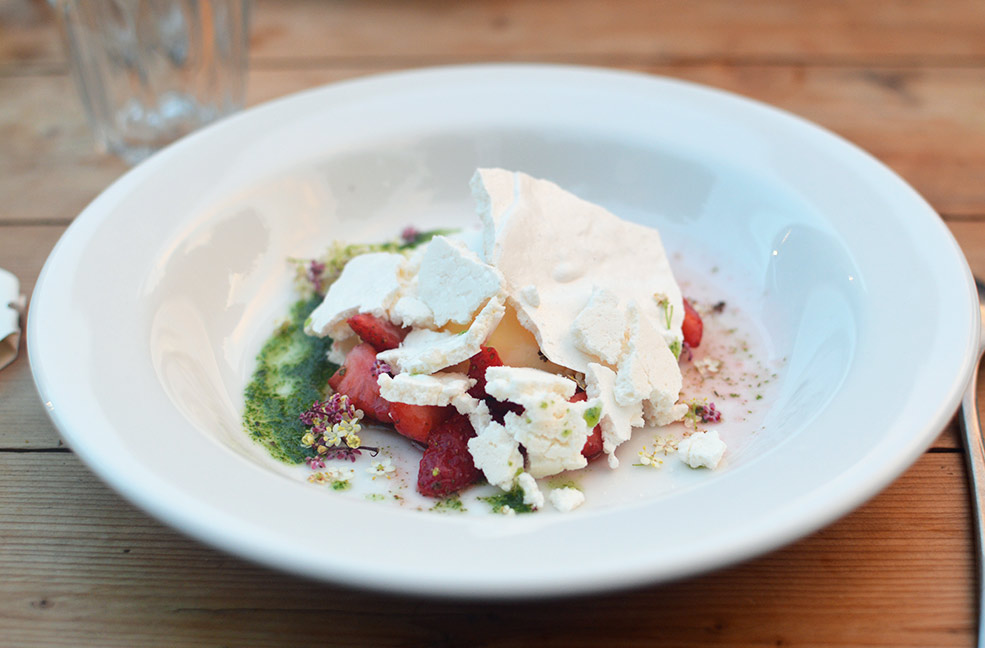 The essence of a British summer to top off the evening. By this point I had a blanket wrapped round me, kindly offered by a member of staff. But the sunset chill wasn't getting the better of me. The mousse was soft and the flavour of the strawberries really came through.
With such stunning food, I was wondering if I'd get chance to actually chat to my neighbours. There was enough time between courses for a good chat. I left feeling like I'd met some really fascinating new people. Everyone had a different story to tell. It was just wonderful.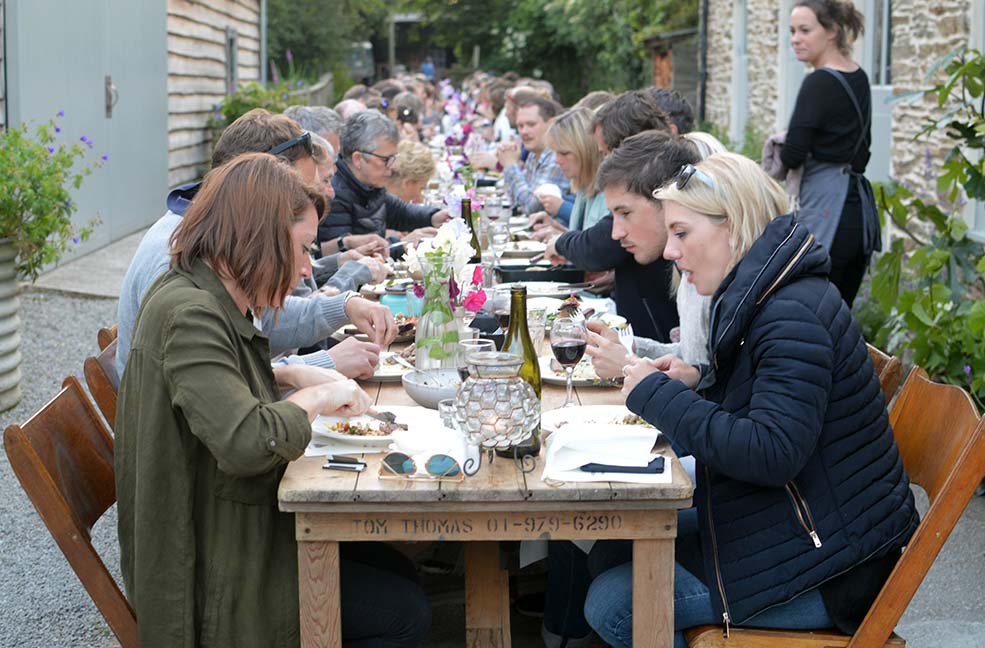 Nancarrow Farm were hosting an amazing festival of feasts from 4th to 6th October 2019 with guest chefs, firepit canapes, wild cocktails and plenty of merriment. The 1000 mouths festival was in aid of Action Against Hunger and is set to be the first of its kind in Cornwall. An exciting event that's the perfect excuse to plan a short break to Cornwall.