Muddy Beach makes the most of Jubilee Wharf's stunning river side views at the bottom of Penryn. With huge windows and an outdoor decking, you'll want to make sure you put aside a few hours just to gaze at the river that little bit longer. Serving everything from coffees to themed menu nights, the team at Muddy Beach have thought of everything you might need when you're passing through this part of the world.
I went to Muddy Beach for a Friday night dinner. With a giddy sense of that Friday feeling, I was definitely going all out when it came to food options. Three courses and wine, of course. When we arrived the cafe had people dotted around, relaxing on sofas with a glass of wine or eating dinner at tables. Some people had brought their dogs in for an evening away from home. Busy but not too full, a quiet weekend buzz in the air.

After being shown to our table by Christian, the owner of Muddy Beach, and handed an extensive wine list, we made our order and had a little chat while soaking up the interiors. Taking inspiration from Scandinavian design and the Hygge philosophy, Christian and his team have pulled together a cosy coffee shop which doubles as a restaurant. The cafe needed to be a multi functional space to cater for its many uses, it also attracts bookings as an event venue acting as the perfect space for a small birthday party or live music gigs.
The food arrived quick and beautifully presented. I love crab and like to dabble in Cornish seafood when I can. I'm not so keen on mussels or lobster but crab is my dream. The crab fritters, served with a salad, are just enough for a starter and my friend's bread selection with a variety of dips was a lovely dish to pick at while we had a chat.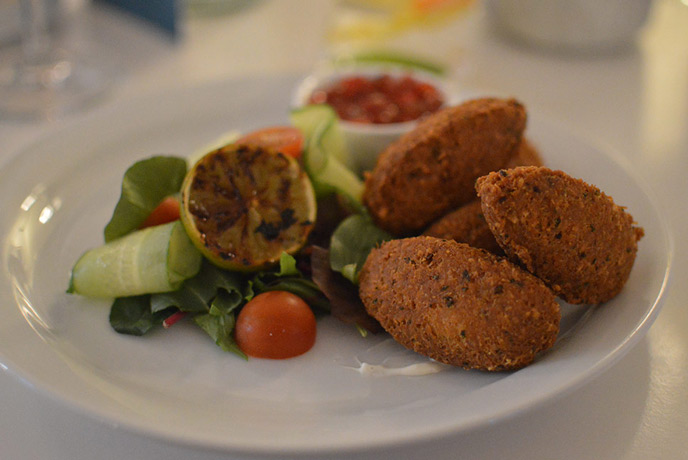 Our empty dishes were then taken away to be quickly replaced by the main course. I chose the seafood Beach Board – a Muddy Beach creation. There are sharing options which make this a great dish for those who want a more romantic evening. Order a big board and live your Lady and The Tramp dreams - sharing a platter with your significant other or your best friend. With plenty of seafood to chop and change every mouthful, I was filled up pretty quickly.

My friend chose a vegan chilli with homemade guacamole. I always think vegan dishes are the hardest to get right. People are very comfortable creating vegetarian options but vegan versions can get a little tricky. That being said, my friend found the chilli to be spicy and tasty, with the guacamole adding a creamy-cooling sensation to balance out the dish. Big thumbs up on the vegan option.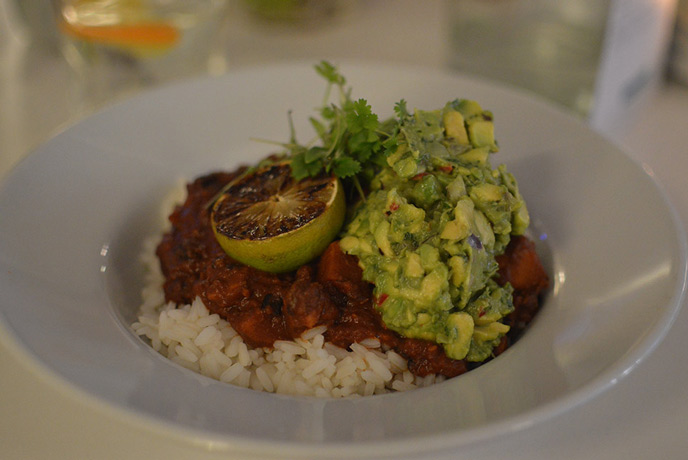 At this point, we were feeling incredibly full. But having considered that the specials dessert was on the horizon, we took a deep breath and continued on like the troopers we are. The dessert for this evening was bread and butter pudding made with the famous Muddy Beach cinnamon buns and chocolate with a scoop of ice cream. I love cinnamon buns and this did not disappoint. It was sweet, the chocolate was all melted, and they even gave my friend vegan ice cream (which they offered several flavours of).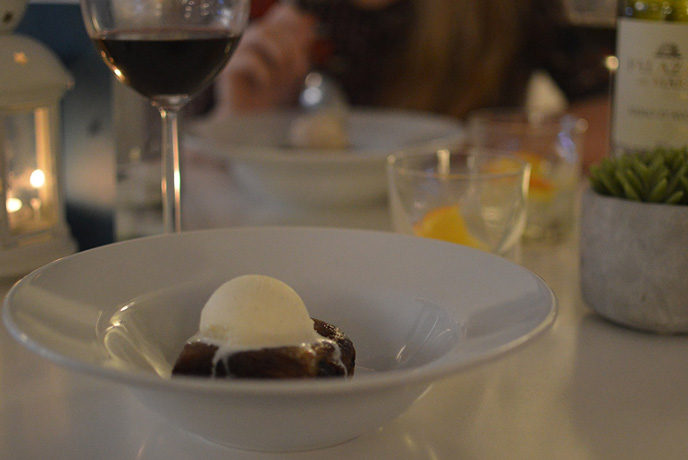 All in all, a lovely place to visit for dinner but also perfect as a pit stop after a long walk with the dog. There are even dog biscuits on the counter for your four legged friends and with a kids menu to boot, this is a super family friendly place to eat.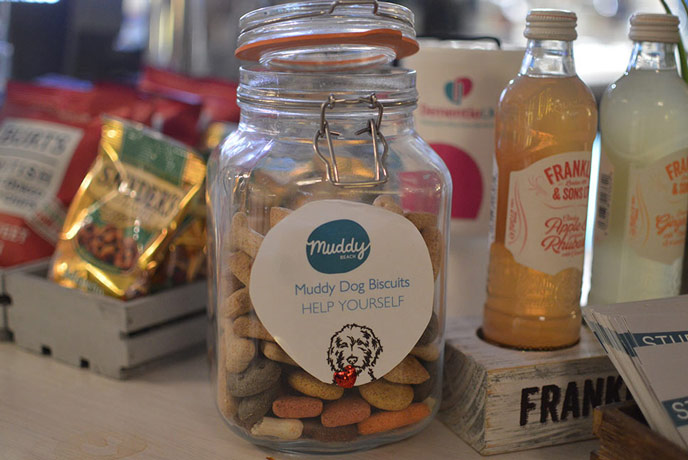 Now all that's left is to go back on the weekend to try a cup of tea with a cinnamon bun. Anyone fancy Sunday brunch?