Review of vegan restaurant, Samphire Brasserie in Plymouth
I had crossed the border from Cornwall to Devon with good reason: a hardcore day of retail therapy. Wonderful as Cornwall is for shopping – there are plenty of beautiful boutiques and quirky independents – there is, it's fair to say, a bit of a lack of the high street big boys. And while that is fantastic most of the time, sometimes you just need a massive H&M haul. And this was such a day.
Of course, predictably, I'd started to get hungry. While there are a few handy food options in Plymouth's indoor shopping centre, Drake Circus (I'm always partial to a few cheeky goes on the conveyor belt of deliciousness at YO! Sushi), today I was in the mood for something more substantial. I decided to head to Samphire Brasserie, a 100% vegan restaurant a short 10 minute walk from Drake Circus.
As I got closer and saw the windows, I knew this was the place for me. They were covered in cartoon junk food: pizza, chips, doughnuts et al. I could practically feel my arteries quivering!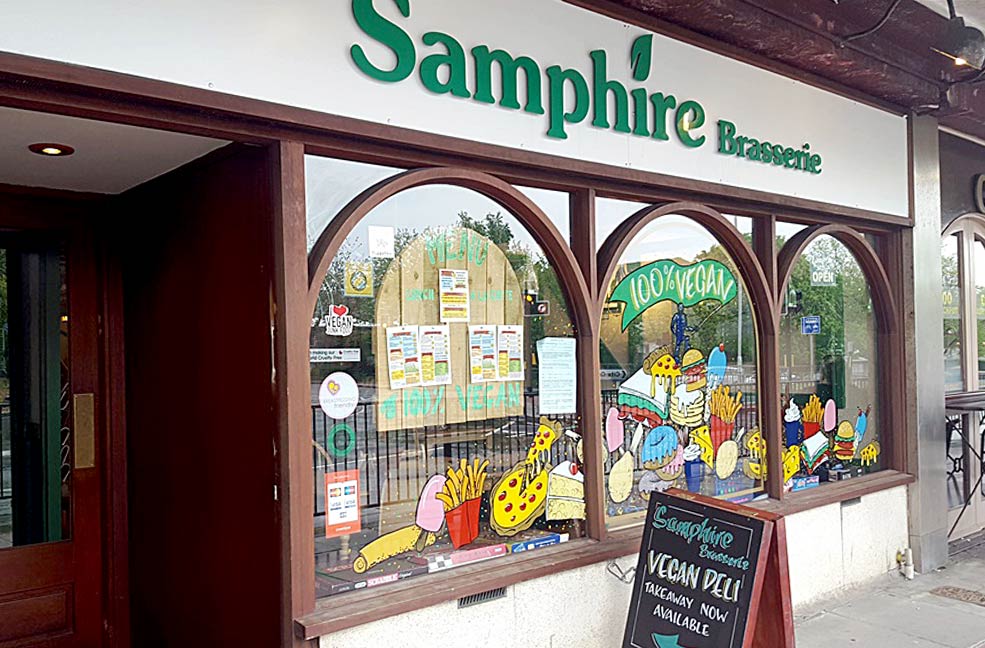 Inside we were greeted by a friendly waitress who showed us to a table, handed out menus and took a drinks order. For vegans – who are usually limited to a side salad and a bowl of chips – this menu is everything. From 'kruelty-free cooking buckets' to blue cheese, walnut and caramelised red onion crepes – everything sounded delicious and everything is 100% vegan.
In the end I settled for Dirty Fries 'Chili sin carne'. It did not disappoint. Twice fried fries arrived in a nostalgic plastic basket piled high with smoky, spicy chilli and shredded 'cheese'. I couldn't help myself and ordered a side of popcorn 'chicken' and some coleslaw too.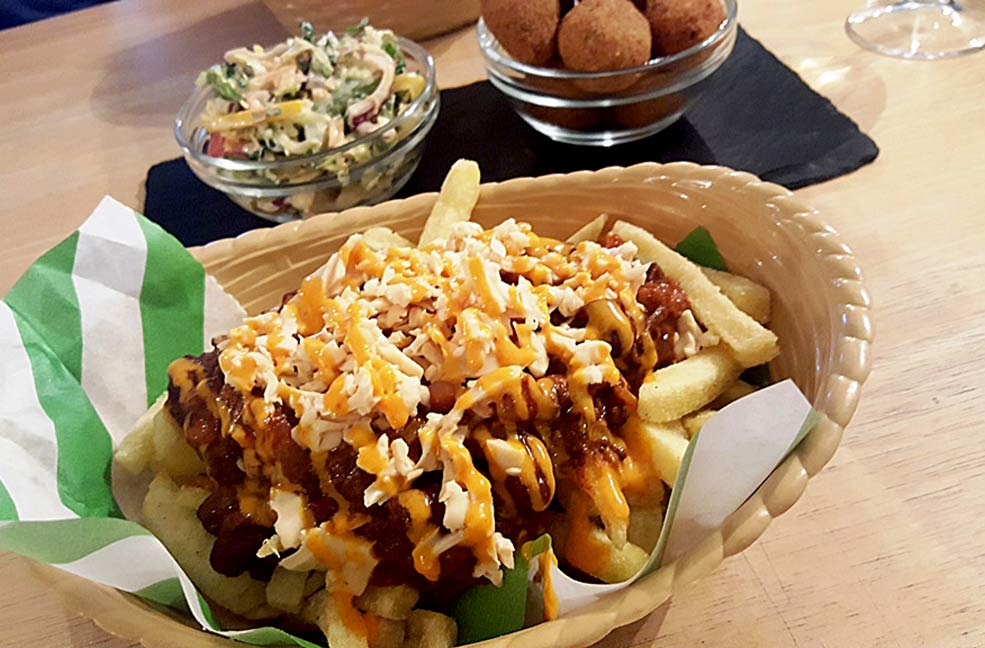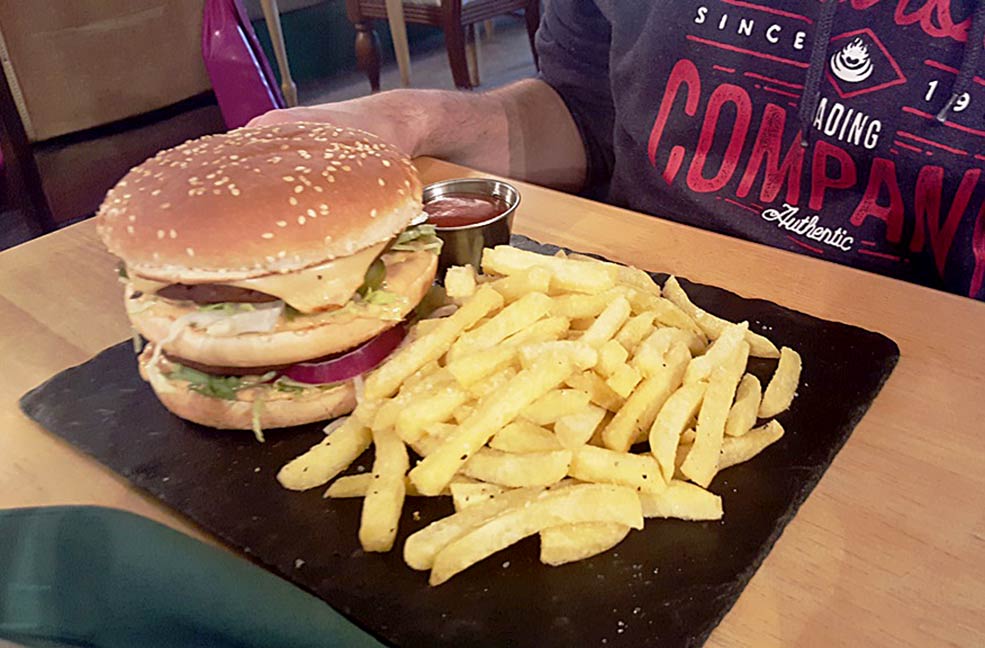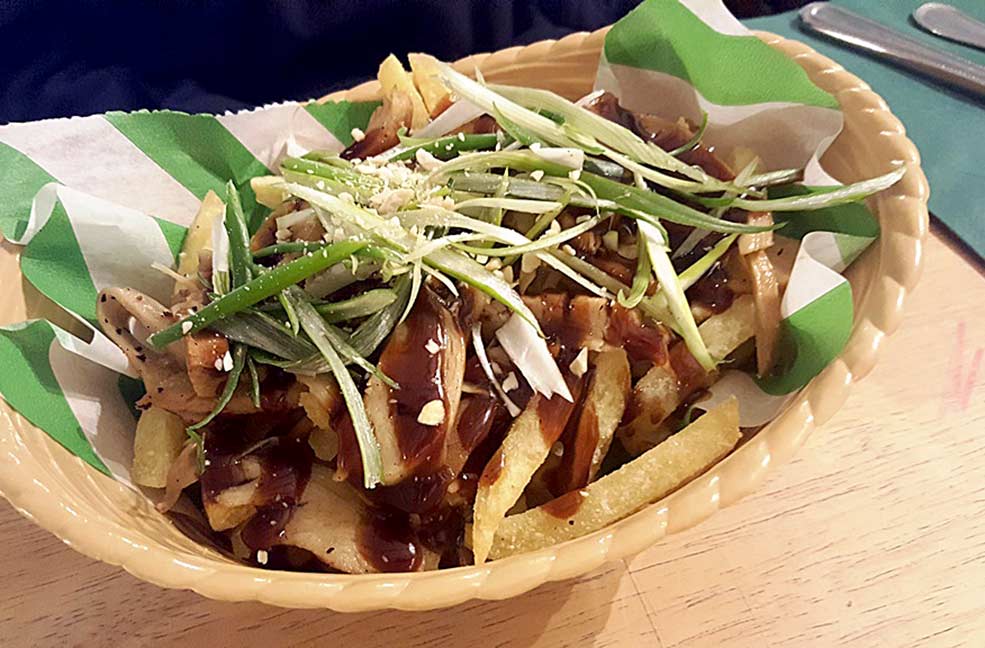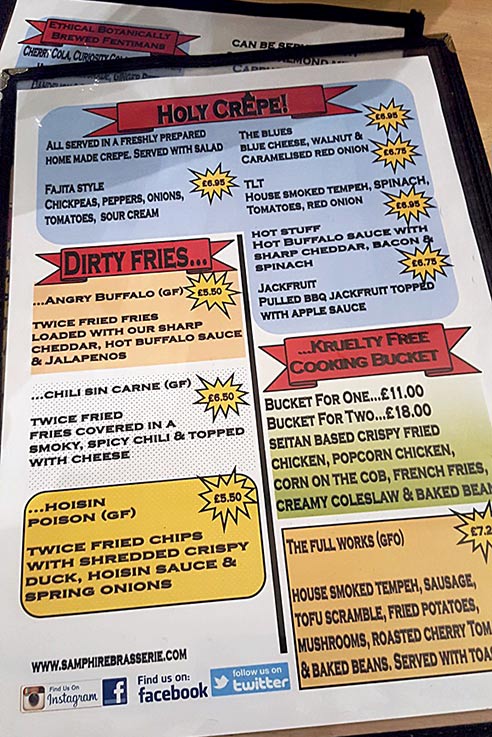 First the chips. They were everything I'd hoped for and then a bit more. Spicy (but not excruciatingly so), smoky (the way a chilli should be) and plentiful. The popcorn chicken was so spot on I actually couldn't bring myself to eat the whole thing – it was too real! The coleslaw was lovely and a fantastic way to sneak some vegetables into this carb/fat situation. That said, it wasn't a typical cabbage/carrot coleslaw, more a salad in coleslaw dressing. Nevertheless, it was very good.
One of my dining partners had Dirty Fries also, but topped with 'hoisin poison' instead, which was shredded crispy 'duck', hoisin sauce and spring onions. She let me steal a bite and again, everything was spot on. The duck really did taste like duck and more to the point, worked surprisingly well in this chip-based concoction!
My other dining partner went for a faux Big Mac. If I hadn't known this was vegan, I honestly would have thought it was the real thing. It was so similar, right down to the sauce they used.
We left with very full bellies and at around £10 each, I thought it was very reasonable too. We continued the day shopping and then ended up going back when they opened again at 5pm for some sweet treats to take home. Three peanut butter chocolate whoopee cookies. They were, again, delicious.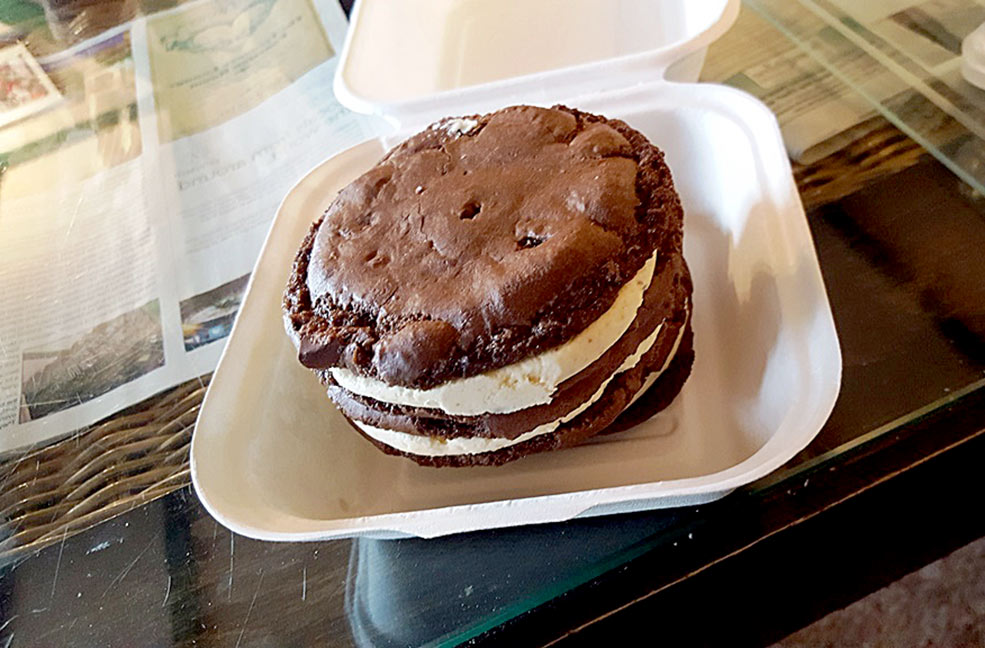 On a side note – while you're in this neck of the woods, you might like to check out 'Asia Oriental Store' which is just four minutes' away from Samphire. It's a grocery store specialising in Chinese, Thai, Filipino and Malaysian foods and it is incredible. On my trip I picked up veggie dumplings, tofu and frozen tempeh (which is ridiculously hard to get hold of). They also sell a huge range of spices, stocks, soups and sauces. I would definitely recommend you check it out.