Windjammer-Morwenstow 2
2918
St Ives / Sleeps 3 + cot
Book or Reserve
Need more time?
Reserve any cottage for up to
24 hours
before booking
7 Nights from £730
The location of attractions is intended only as a guide. Distances are 'as the crow flies'.
Nearest pub
One for foodies and families alike! Producing quality pub food from local produce at pub prices, the award winning Queens Hotel is establishing itself as one of Cornwall's leading pubs for food. A family-friendly establishment in the heart of St Ives, where the staff provide an unpretentious, friendly atmosphere, just minutes from the sea.
Nearest beach
Step onto Porthminster Beach and let your feet bury into soft, white sands. Famed for its unique light and incredible vistas, St Ives provides us with another true gem in Porthminster. With a flowing shore meeting crystal-clear waters, visitors can enjoy the best of both worlds – a true beach paradise with the beating heart of a thriving town.
August 2019
Best beach for sandcastles ever!
I think I may have just found my new favourite beach. Sure, there are wilder, bigger, quieter or more spectacular beaches around, and if you are down for the surf then you probably want to look elsewhere. But if you have young(ish) children then they will just love it. The sea is amazingly clear and the beach is just so clean, with no flotsam, no foam, and no seaweed. OK, so there are no rockpools, but my two boys (9 and 7) had plenty of rocks to clamber over which they loved. And the sand! Absolutely perfect for digging :-)
---
May 2013
Wonderful beach in the heart of St Ives
A must visit beach with great beach restaurant
---
January 2010
Lovely Beach close to St Ives
Porthminster Beach is a small sandy beach just on the edge of St Ives with pure white sand - perfect for family time. The water is great for paddling and there are good facilities close by - a beach shop, juice bar and ice cream stall as well as a take-away cafe and the essential toilet facilities.

The Porthminster Beach Cafe is open for morning coffee and afternoon tea as well as lunch and dinner. The cakes are fab and the views amazing from the deck. The good thing about Porthminster Beach is that is is bigger than the main Harbour beaches so you'll have more space whilst still being just a stone's throw from town. Enjoy!
Nearest walk
Taking place throughout the year, these walking tours give a facinating insight into the history, art and people of St Ives. Tours start from The Guildhall (Visitor Information Centre) and run for appoximately 75 minutes.
Nearest town
Winner of the Best UK Coastal Town at the British Travel Awards for the third year on the trot, a St Ives holiday is a must for anyone visiting Cornwall. The picturesque harbour has plenty of bars, cafes and restaurants where you can just sit back, relax and watch the world go by as you stay in one of our self catering cottages in St Ives.



There is a maze of cobbled streets behind the harbour to be explored, with holiday cottages, shops, galleries and artisan delis all waiting to be discovered. St Ives bay has beaches galore to suit everyone's holiday needs. Harbour Sands and Porthminster beach offer sheltered bays for the family but a short stroll around to Porthmeor Beach means you are more likely to catch a wave or two and let the surfing bug take hold.

The cliff walks are stunning for those that prefer not to sit around in one of our St Ives holiday cottages, with panoramic views of sparkling sea and a coastline of beautiful sandy bays. The unusual micro-climate and unique quality of natural light have ensured that St Ives has long been a Mecca for artists, inspiring painters and sculptors alike for well over 100 years.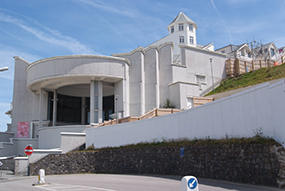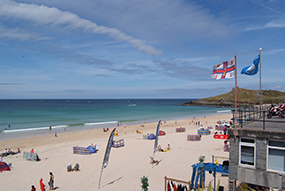 Testament to this is it has become home to not only the Tate St Ives, but the Barbara Hepworth Museum & Sculpture Garden, the St Ives Society of Artists and the St Ives art school.

We have gone to great lengths to handpick only the best St Ives cottages to ensure that your break is as relaxing as possible and you will have a self catering holiday to remember for years to come.
April 2015
Lovely
St Ives is a big place and has everything you could need for your holiday having a classic fish 'n' chips, corner shops for groceries, pubs etc it's a must go too for the experience.
---
January 2014
Myself and my partner have visited St Ives on numerous occasions in both the summer and winter time. There is so much to do and see whilst here. It is so full of character with it's cobbled streets and beachfront restaurants. Even better in wintertime when places are much less busy! Great to sit on a balcony of one of the restaurants and watch the tide! There is a wide variety of shops and restaurants to suit all tastes! We love walking along the harbour rain or shine. We have often seen seals visiting in the summer months which is always lovely. I'm sure that we will be back again and again! Lots of small arty shops which sell some lovely things! Definitely our favorite place in the South West!
---
May 2012
A myriad of cobbled streets with art galleries and independent quaint shops makes this town a must-see for anyone who loves Cornwall. Not much else to do there though - unless you want to laze on the beaches which are nice and sandy.
We avoided the Tate Gallery because of the admission charges for adults, but there were plenty of other art galleries (all free) - and often artist working in / outside them.
Get there early for parking - and be prepared to walk quite a way (up/down steep hills) to reach the harbour/beach/ Art Galleries. For all practical purposes, you can't drive round St Ives - there are restrictions for non-locals and the roads are extremely narrow anyway! A great place for 'mooching around'! 5*, except for parking access, which lowers score to 4*
---
September 2011
I'm very surprised to have so few reviews. St Ives is without doubt one of the prettiest towns in Cornwall, the view as you approach it from the train is quite breathtaking. You could be forgiven for thinking you have been transported to the south of France. There is an incredible amount of galleries, shops, eateries.
A must see.
---
July 2008
No town can be better provided with beaches than St Ives, on any day it's possible to find a patch of sand to suit. The variety of beaches mean that you can spend a morning surfing at the more exposed Porthmeor followed by an afternoon on the lilo at the sheltered island or picturesque harbour beach. The problem with seagulls is over exagerated, just use common sense in choosing a location to unwrap your chips!
Also nearby
One restaurant, one beach, one menu, one excellent approach to food. Recommended in the Times (2012) as one of the top five places to eat fish!
October 2020
Just fabulous on every level
The food, staff and views are amazing. An added bonus in these Covid ridden times is the care and attention they have given to ensuring that the environment is as safe as it can be. Great distancing, hygiene protocols, one way system etc. Most importantly, the systems are applied systematically and consistently by the staff. Great job!
---
September 2012
Nice but VERY expensive
Agree with comments as far as very tasty, freshly cooked food and great views straight over the sea go. We arrived on the off chance and got a seat on the terrace, it was rather chilly but they gave us rugs! However you pay for the privilege, we are probably not high class diners but £66 for 2 courses for 2 people? Including £6 for what was really quite a small glass of wine? Ouchie. Stick with coffee and get your main meal elsewhere.
---
August 2012
Superb Food
Absolutely superb lunch at a magnificent location - and service to match
---
November 2011
Simply The Best!
Forget Michelin Stars, this must be one of the best restaurants in Cornwall. No need to say any more!
---
October 2011
great place on the beach
Walked from Carbis Bay to St Ives on the coastal path - the walk was lovely but somewhat busy. Spotted the beach cafe on our way out and couldn't resist on our way back! Had a good lunch on the beach at the cafe - dogs are allowed so a massive plus for us, then returned back to the station car park at Carbis Bay.
---
October 2011
Fab
Excellent food/ambiance/service so do try it!
---
September 2011
Has to be one of the best places to stop for a coffee!!
---
July 2011
Great location and very good food. Service a bit patchy - some new staff being trained?
---
July 2011
Simply GREAT!
We were lucky enough to get a table last week and the food was delicious! The atmosphere was really chilled, great staff and a view to die for.
---
January 2011
Not only excellent for the food & view, but award winning too!
---
January 2010
A delight!
This is a real treasure - we always recommend to friends when they visit St Ives. Beautifully fresh food, lovely staff and the views are just out of this world. If you want to try it out, you can just have coffee and cake - but book for lunch or dinner or you may not get in. It is great for family dining too - they prefer you to eat early in the evening with children and although they don't advertise a children's dinner menu - they do offer a selection of dishes for them.
---
August 2008
Our favourite restaurant. Excellent food and wine. The Telegraph gave it a 10 out of 10- very rare indeed-we would give it 12 out of 10. The decor and views are outstanding with lovely touches (the wine comes in a beach bucket cooler). Imaginative fresh dishes that are simply mouth watering. Don't miss it!
---
July 2008
A treat!
The Porthminster Beach Cafe is delightful. The staff, location, food and consistant high standards always makes for a fantastic treat! Something to share with family and loved ones alike.
Stride through time at the legendary St Michael's Mount. Follow a giant's footsteps and find his heart buried in the cobblestone paths. Scale to the top of the mount and conquer the castle, looking out over spectacular views of the bay and out beyond the horizon. A day spent here is not one to be forgotten.
August 2022
Great half day out
Lovely spot and ensure you book in advance and know the tidal situation. High tide get the boat and low walk the causeway. Try to do both ! Good for kids plenty to see and big area to let off steam. Lovely morning was had and returned to Marazion where we picked up lunch and spent pm on the beach. A good day out.
---
June 2022
No free entry any more
Been visiting for years. You can no longer enter just to use the cafe or toilet, like you used to. We had to book tickets on our phones at the gate and it allocated us a time slot - so we had to walk back into Marazion to kill an hour before walking back across. Bit of a shame. Still utterly beautiful though.
---
May 2022
St Michael's Mount
We are National Trust Members and didn't actually book this. After walking across the causeway we were told we needed to have booked online tickets. We then did this on our phone and were admitted easily enough. Cafe has been updated and the plant sales area changed but for the better with more seating. A wonderful castle and beautiful gardens. You need to book a ticket for the boat trip before setting off if you cannot walk the causeway. You can't buy a ticket on the boat anymore. A fabulous day out.
---
September 2021
Requires booking ahead
Be aware, whatever your previous experience, the NT require a booking even to reach the Mount harbour, never mind entering the castle. Also note, there is very little phone signal on the beach so you cannot book there!
---
July 2021
Well worth a visit
Exceeded my expectations. Lovely day out.
---
June 2021
St Michael's Mount
Very enjoyable day out but quite a climb.A long queue to pay for parking about 15 mins as very difficult to work out how to pay
---
June 2021
Be prepared to now pay for entry.
We had visited St Michael's Mount before and you could go into the outer areas without having to pay . But now it is £10 for a ticket , so be prepared .
---
August 2019
Another must visit
Fabulous but get there between 9-10 as it gets very very busy...also check website to see when garden is open!
---
June 2019
Very special
A crazy place. Copy of Normandy but different. A museum but people still live there. Garden is also spectacular. Short trip by boat is nice.
---
April 2016
Perfect also for children
---
August 2015
A MUST TO VISIT....
St Michael's Mount is a truly unique and magical place and was the highlight of our stay. Check the tides on the website; you need to walk the Causeway one way and get the boat in the other as the tide will come in/out while you are there. I would advise going early during the high season. That way you will park easily in the National Trust Car Park on the beach and will avoid the worst of the crowds. Both National Trust Cafes on the Mount do amazing food, often sourced from local producers, and they have spectacular views of the mainland. The Crab Rarebit will linger in my memory...mmm!

The warnings of uneven ground should be heeded; you do need to wear supportive footwear...no flip-flops! The cobbled, steep paths up to the Mount are poorly maintained and have great gaps in between the cobbles. One section known as 'The Pilgrim Steps' dates from mediaeval times and are now little more than tumbledown boulders that have to be scrambled up. Buggies are better left behind or you will end up carrying them (and the kids)!

However, it is SO worth the climb for the amazing views from the top and to look around the house and Church. What a history! Medieval Abbey, to Civil War fortress, and now a private residence. Stunning!
---
August 2015
Be prepared to hike
Whether you walk across the causeway or get the ferry (likelihood is you'll do both), at some point you will have to walk. The walk from quay to either the gardens or the castle is a bit of a trek, with the latter needing the visitor to scramble up steep cobbled steps and pathways. Once you reach either the strenuous walk is immediately forgotten as you are left agog at the stunning views, both natural and man made.
The top of the castle commands spectacular views across Mount Bay, with Newlyn, Penzance and Marazion all within a perfect vista. If you're brave enough you can peer over the ramparts and spy the fabulous gardens from on high.
Children are easily entertained by the castle quiz and they get a prize at the end, adults can simply wonder at the artefacts on display and the fabulous architecture.

---
October 2012
Well worth a visit
---
October 2012
Thoroughly enjoyed our trip to St Michael's mount. The castle was delightful and there was much more to it than we had expected. Would recommend a walking stick/pole for the ascent to the castle.
---
September 2012
Perfect day out
We love St Michael's Mount. If the tide is right you can walk across to the mount and then get a boat ride back. The house and surrounding area are very atmospheric and if you are fortunate enough you will get to see the Basking Sharks. A great day out and well worth a visit.
---
August 2012
Good day out for all the family
Took the ferry as it was high tide. A long queue but with several ferries we didn't have to wait long. Kids enjoyed the ferry ride and the interesting things in the castle. Quite a steep climb on cobbles up to the castle so wished I had worn more sensible shoes but worth the climb. Cafe's were good and also places to picnic. Lovely views from the castle. Spent several hours on St Michael's Mount.
---
May 2012
A truly worthwhile visit and highly recommended. But you do need to be physically fit and able to cope with steep uphills on cobbled paths! Not for the elderly or infirm!
---
April 2012
Lovely day out
We got there on a small boat. Had a nice scone in the cafe and waked around the house. Lovely day out
---
September 2011
Fabulous views on the mount !
The views are amazing and the castle is full of history. A bonus is the castle is still inhabited as a family home, which gives it a nice lived in feel. Gardens look fantastic from the ramparts, but are not open every day. Phone up before you visit to check tide times. We went out by boat, then walked back across the causeway.
The NT cafe is lovely, and you can have an above average waitress served meal.
---
September 2011
I would recommend everyone to make the walk across to the Mount, it is magical but do watch the tides!
---
July 2011
ST M's Mount
Well worth being a member of the National Trust to be able to enjoy this treasure. Great afternoon's outing for family - we had our 2 older teenage kids who were very happy to go round the castle. Lovely place to sit and relax too enjoying an ice cream after you've viewed the property. Keep your eye on the tide though - it comes in very quickly but it adds to the fun to have to wade back through thigh-high water!
---
June 2011
The view from Sunnyside over St Michael's Mount is magical and a trip there doesn't disappoint. We were impatient for the tide to recede and so began our visit by paddling over the causeway, an adventure in itself. The walk up to the house was an exciting scramble, but not for the infirm. At the top the views were tremendous and the property quite as wacky as the octagonal dairy on the way up suggested it would be. Lunch in the tea shop was one of the best we had during our stay. All in all, a delight. Brilliant for anyone with children. Best not paddle over the causeway if you're taking the buggy though.
---
April 2009
---
January 2009
Wonderful St Michael's Mount
When in the area there is nothing nicer to do, whatever the weather, than walk or take a boat to the Mount (depending on the tide). At low tide you can meander up the causeway the to the Mount where a nice NT cafe awaits and a steep walk up to the castle (passing over the giant's heart on the way), here the views across the Mount's gardens are second to none. A magestic place.
---
January 2009
Check the tide times before you leave, as it's great to walk over to the mount. If you have small children it is better to walk or bring a baby carrier as pushing a buggy on the cobbles is really hard work. It's a magical place, nothing quite like it, it's amazing how the access to the mount suddenly appears and then disappears later in the day. There is also a fab outside play area for children with plenty to do for small tots and children up to about 12 years.
---
January 2009
Sub tropical gardens
Great attraction to visit if you haven't already been. The castle is worth the climb, and the gardens are wonderful - many sub tropical species there which can only be found in this part of England. Well worth a visit.
---
January 2009
Set out from a beautiful beach, this is a great place for a day out. If the tide is in you can get a boat across to the Mount which is great fun. There are lovely gardens as well as the Mount to explore.
---
September 2008
A trip to St Michael's Mount is a wonderful way of spending a sunny summer's afternoon or even a beautiful autumn one, if you want to avoid the crowds! The view of the castle in the bay is so well known, it is lovely to get another perspective of the coastline by looking back from the island to Marazion beach and the sweep of the bay to Penzance. To get the full experience you need to walk across the causeway at low tide (there are often puddles!!) but the walk up to the castle itself is very steep, so not a day for heels! The restaurant is nice, and there is also a tea-room/cafe, but we like to buy pasties in Philps at Marazion and sit round the island's harbour to eat them. On your ascent to the castle don't forget to look out for the heart of Cormoran the Giant, now turned to stone...
---
July 2008
Wonderful five minute trip by sea or if the tide is low, you can walk across the causeway to this fairy tale castle which dominates Mounts Bay. Steep walk up to the castle itself which is not for the faint hearted! Those who would rather not can wander round the little harbour. Good coffee and pasties at the Cafe or there is the Sail Loft Restaurant. N.T. shop. There is plenty to see in the Castle and the views from it are stunning.
Taking pride of place on the cliffs above Porthcurno, the world-famous Minack Theatre is truly one of a kind. Hosting an array of open-air events, visitors to the theatre will be intrigued and entertained by actors and musicians performing fantastic live acts. If you can tear your gaze away from the stunning Atlantic background, that is.
July 2022
Simply breathtaking!
We visited the Minack Theatre for the first time
---
June 2022
Fantastic setting
Beautiful, what a setting! Take a cushion and blanket and it's a great way to spend an evening.
---
October 2020
Bev
Magical
---
September 2020
Mischief Movie Night at the Minack
Fantastic setting and a very entertaining show. The staff were brilliant and the social distancing worked well. If you have the opportunity to visit (for a tour or with tickets for a show) don't miss it. It's an amazing place.
---
August 2019
Minack theatre
Brilliant, a must, the play was excellent
---
June 2019
Best open-air theatre ever
I came here back in the 1970's and was fascinated. I came again now and nothing has changed. Where can you say that? Unique place, great artists (we enjoyed Shakespeare), incredible atmosphere. Out of this world! But take warm clothes, it can be cold later!
---
September 2018
Amazing place !
We had booked to see a performance months ago as a friend recommended it. We were not disappointed. This is an amazing place.
---
August 2018
A wonder to see
£5 each to view a theatre seems steep but when you go through the doors and see the view on a sunny day its well worth it. One of the best views Ive ever seen in Cornwall.
---
August 2017
Beautiful
Stunning views, gardens, ammenities and the actual theatre itself is worth the trip down alone. Recommended to anyone visiting Cornwall, add the MinackTheatre to your itinerary.
---
October 2016
An Absolute Must!
The views from this magical place are gorgeous and all the gardens that are painstakingly laid out between the seats are a real pleasure to see,but the theatre itself is so spectacular that it almost takes your breath away.We have been to Cornwall lots of times and have always promised ourselves a visit to the Minack but this was the first time that we had made it.I have to say that having been once we will certainly be returning.Thank you Rowena Cade for starting this truly magical place!
---
September 2015
An absolute must!
---
June 2013
Worth a visit. Wonderful views, sea birds amazing to watch. Warm welcome good cafe, great cakes!
---
June 2013
A unique experience!
What can one say? This was my second trip to The Minack, but my partners first. She was utterly enthralled - the production of "Mack & Mabel" was fabulous! But, let's be honest, the real star of the show is the theatre itself - absolutely tranquil setting, looking out over the sea and Porthcurno Beach while the production unfurls before you (there is something truly magical about the sound of the sea drifting in during the quiet parts of the show). Really - if you do one thing whilst in Cornwall, please make it a trip to see a play at The Minack Theatre. You surely will not regret it - and it's outstanding value for money too (less than a tenner for a seat)!
---
November 2012
Minack Theatre – Spectacular
The story about how the theatre was created is fascinating.

The views from inside the theatre and out to sea are stunning.

Once you have visited the theatre either walk down the footpath or go to the car back at The Telegraph Museum and walk down to Porthcurno Beach. What a way to spend a day.

Anne Gage


---
September 2012
Amazing
Have wanted to visit Minack for ages & it lived up to expectations, fantastic views & what an amazing story.
---
August 2012
Wonderful evening at the Minack Theatre
Wonderful evening at the Minack Theatre performance of David Copperfield. The weather on Bank Holiday Monday afternoon had been appalling - pouring rain- but we received text updates from the Minack, and in line with the BBC weather forecast the rain stopped in time for the show and later on the moon shone over the sea. The play was very well done and we all enjoyed it, even the teenage boys. We wrapped up warmly and invested in hire of the Minack padded seat cushions with backs. This year we had stone seats with backs which were much more comfortable than sitting on the grass terraces. I booked the seats online about a month in advance, and I believe they were sold out for the week's run of the play.
---
August 2012
Squashbox Theatre - Craig
If Squashbox repeats in 2013 ...you must go and see it. Morning shows for children - but equally enthralling for Adults.
Craig is a fantastic performer and you get the chance to see the Minack.

But you will need to book - performances in August are usually sold out a few days in advance.
---
July 2012
Amazing and great value
I rang the theatre to ask for advice and they were incredibly helpful.Unfortunately the weather was rubbish - but the show went on and we enjoyed a great play in an amazing location - even the weather couldnt ruin the evening. Well worth a visit and good value for money.
---
June 2012
Worth every penny - the history about how the theatre was created is fascinating; the views from inside the theatre and out to sea are stunning.
---
May 2012
Excellent attraction with fantastic views.
We tried to book tickets online prior to our visit, but the theatre was fully booked. However, when we visited during the day, we found that the booking office had received some cancellations and we were delighted to be able to get tickets for two days later . Worth checking with the booking office when you visit!
---
May 2012
MINACK THEATRE
This is truly uplifting, the story about it is amazing ,the views are simply wonderful. No plays on when we visited but truly a great place to spend some time, free car-park!! decent reasonably priced cafe, friendly staff.
---
April 2012
Mesmerising
We got tickets to see Titanic The Musical which was being performed to coincide with the 100th anniversary of the sinking. Adult tickets were a very reasonable £8 for the upper terraces, which gave a decent view. We all wrapped up warm with blankets and foam sit mats (essential) and thoroughly enjoyed the show. The backdrop of the sea and cliffs on the opposite side of the bay gave this show special significance. The real water gushing down the steps and the marine distress flare illuminating the sea made this a truly emotional and memorable experience.
Go to the Minack Theatre - you won't be disappointed
---
October 2011
Spectacular!
Read the story of Minack Theatre before visiting and then marvel at what you see there!
---
October 2011
Worth Going
Saw Pirates of Penzance in Sept and was fab. Do take warm clothes even if the weather seems mild and totally exposed to elements! My partner nearly had frost bite on his ears so had to buy a silly hat! Some people who were not dressed for cold weather left at the interval.
---
September 2011
Wonderful - everyone should visit this place, truly amazing.
---
August 2011
A wonderful place to visit, for all the family. Attended chidren's storytelling session on a Tuesday morning (on Tues. & Thurs. morning during summer holidays), which was a great hit with both children and adults. Enjoyed some delicious Cornish pasties in the cafe on site before heading down to Porthcurno beach below - a great day out!Superb views when the weather is fine.
---
July 2011
Fantastic. Super setting for The Death of Sherlock Holmes which was funny and very entertaining. Wrap up warm, even on a summer's evening, and take cushions to sit on. Plenty of opportunity in the break to wander round and explore,taking photographs, up and down the steps. We bought fish'n'chips in Sennen to eat there which were lovely rather than have the hassle of carrying a picnic round all day.
---
July 2011
Great Evening
A superb location, made even better by a great performance.
Will return.
---
June 2011
Marvellous Minack
We loved the Minack: the turquoise sea as a backdrop to the action on the stage. We were there for a matinee on a hot September day in 2010. A traditional production of Gilbert and Sullivan's Mikardo by actors from Cambridge University. Many years ago, a friend had performed in this at the Minack.

Words of warning: the tiers are very steep, and the sun can be very hot: not a venue for the very elderly (who were there when we were, but a couple were overcome by heat). Recommend the canvas seat covers which make the narrow tiered seats, cut from the rock, more comfy.
---
June 2011
The Minack Theatre
A wonderful venue. Attending at least one event is a must. Take plenty of warm clothing along with a picnic and something hot to drink because you really are exposed to the elements. Early booking is essential for many events. If you love the theatre then a visit to the Minack is not to be missed. Plenty of easy access parking.
---
March 2010
A stunning location for this original open air theatre. Fantastic views with the possibility of fabulous sunsets. If you are lucky you may also see dolphins. Book early for the summer time plays as it is very popular and remember to take a picnic and lots of warm clothing!

Jean Speake
---
October 2008
Minack Theatre
Open air theatre built by Rowena Cade in the most stunning cliff top setting near Penzance at Porthcurno.
Whether you attend a performance or simply visit the site (there's the Rowena Cade visitors' centre and a cafe), you'll find the setting utterly breathtaking. I'm still in awe of the determination of Rowena Cade to create this utterly unique theatre where a great variety of imaginative performances take place. The weather is important, so it's a good idea to check the forecast before you book.

- J Wallwork

---
July 2008
This must be the most dramatic setting for an open air theatre in Britain. Book early if you want to go to a performance.
---
July 2008
Wow is not enough
To say that it has 'wow' factor is not enough. No photograph does it justice. People walk in through the gates for the first time and their jaws hit the floor. Daytime visitors can enjoy the exhibition about Rowena Cade, the single lady who built the theatre with her own hands, and take refreshments in what must be the most spectacularly appointed coffee shop in the country. But it's even better to come on a summer evening when there is a show on. No trip to Penwith is complete without experiencing this unique and wonderful theatre.
Chilled out cafe in amongst the dunes at Godrevy Lighthouse National Trust car park. Bright and breezy with great views across the bay to St Ives from the deck and big plates of really fresh, imaginative food - try the Mediterranean mezze.
May 2022
Wonderful Cafe
Great cafe and just off the beach to work up your hunger. Always have interesting things on the menu as well as traditional bacon sandwiches etc. Some indoor seating but most is outside. Good value.
---
October 2020
Fantastic wild beach
The beach is wild and windswept with amazing light and waves rolling in from the Atlantic, a wonderful experience. The cafe food is excellent, particularly the beef sandwiches. We couldn't understand why the toilets at the cafe were closed and the nearest public loos were a 15 minute uphill walk against the wind, what a shame!
---
September 2020
Mrs Goodrum
After seal watching we stopped here for a beef sandwich for lunch - absolutely delicious! We did have to wait a bit but as we're in the COVID era with things taking longer that can be forgiven. Will definitely return.
---
October 2017
Situated on the headland at the end of the huge Hayle/Gwithian Beach. National Trust owned and offers excellent food. Seating is both indoors and outdoors and justifiably popular. Open during the day and also some evenings.
---
November 2016
Great breakfasts and so close to the seals
Lovely breakfasts (full Cornish is massive, honestly it'll keep you going the entire day) and surprisingly good coffee which i didn't expect. Best of it is, it's just a few minutes walk from the seal colony which we visited three times during our stay locally to see their antics at different tide times (best to see them as the tide is going out as they come ashore to rest so there's lots of activity then).
---
October 2012
Outstanding food, drink and view
Our favourite beach cafe in Cornwall. Great food, particularly in the evenings when you can sit upstairs with a view of the beach and watch the sunset (really family friendly - they always spoil our kids). For lunch the wraps are brilliant (Mexican and vegetarian are particularly good) - we get them takeaway and eat them on the beach when body boarding.
---
September 2011
Lovely on a sunny day
Great place to stop if you're on a trek to refill your energy levels with local cakes and decent coffee.
---
September 2011
Breakfast
Its become a 'tradition' for us now to have our final days breakfast at Godrevy Cafe. If you leave on a Saturday you are going to wait, but its worth it. Excellent, wholesome ingredients cooked perfectly and no skimping on portions either. There is so much more that the usual 'full english' - but this is sooooooo nice! Excellent location off the beaten track.
---
August 2011
Yummy!
Also does excellent cream teas which you can justify eating if you've just returned from a long walk (but don't try going for a walk after eating one!). Can get very crowded and service can take a while, but the food is worth the wait.
---
July 2011
Mrs Jewell
Fab! The food is freshly cooked and very tasty. The large hot chocolate is especially good after a long coastal walk. The cakes are again home cooked and huge! The ice cream is a treat after a day on the beach. Well worth a visit.
---
June 2011
Another mention for the breakfast!
It's been mentioned before but who cares. I can confirm that the breakfast IS simply divine. Don't look for a healthy option (have that at home), give yourself a real treat and go for the full English. I'm still dreaming of it :-)
---
May 2011
Great location - call in here for a full English breakfast - it is to die for - get your day off to a fantastic start. Then walk it off either along the beautiful sandy beach or climb the cliff path to the top and watch the seals in the little secluded cove. A real treat.
---
July 2008
The largest mug of hot chocolate ever! Lovely freshly cooked food and huge cake portions - a must stop if you are visiting Gwithian.
---
July 2008
Lovely lunches, great for a cake and a big mug of coffee!!
An amazing space for gazing at artworks.
May 2012
GREAT EXHIBITION
Saw the Alex Katz paintings amazing, the Gallery is situated above the beach at St Ives simply entrancing.
---
September 2011
Mixed bag of art, generally enjoyable
Very small amount of art collection is on show at one time. the actual art display space is quite limited (there is a bit of an 'is that it ?' feeling when you have been around). However the quality of the art is good, and interactive exhibits such as the balloons in 'half the air in a given space' in 2011, add to the experience. Best coupled with a visit to the Barabara Hepworth collection. Don't expect to spend more than about an hour here. Unlike the Tate in London there is an entry charge, so look out for money off vouchers locally before you visit.
---
September 2011
Excellent. A truly amazing setting to view Modern Art.
---
September 2008
A superb introduction to 20th century Cornish art - Don't miss the Barbara Hepworth gallery
This is the perfect place to see and learn more about contemporary Cornish art. The collection boasts a number of Alfred Wallis's works, and those of other influential artists right up to the present day. Your ticket also allows you in to the Barbara Hepworth gallery, a short walk through the narrow streets of St Ives. The gallery is on the site of her workshop, which looks exactly as though she has popped out to the shops for a few minutes, and includes a number of her iconic works in the beautiful garden overlooking the church and the town. Not to be missed.
---
July 2008
With a very limited permanent collection, this outpost of the Tate hosts exhibitions of modern art, sometimes with a Cornish theme. The coffee shop is excellent and has a wonderful view
---
July 2008
Articles
| From around the area