Little Chi Argel
4879
4.2 miles NE of Bodmin / Sleeps 2 (no children under 16)
Book or Reserve
Need more time?
Reserve any cottage for up to
24 hours
before booking
7 Nights from £299
The location of attractions is intended only as a guide. Distances are 'as the crow flies'.
Nearest pub
Perfectly situated on the village green, this traditional village pub has been voted Cornwall CAMRA pub of the year three times. There's lots of outside seating for warmer months and inside it's cosy and warm.
September 2019
Nice place, good food
Nearly 3 miles up, a good ale and good food!!!!
---
May 2011
A traditional Cornish pub set outside a beautiful village green, lots of space for children to run around whilst parents sit outside and watch (no children in the pub though). It offers a nice destination for those doing the Bodmin/Wenfordbridge offshoot of the Camel Trail, although after cycling up the hill to get there, you definitely need a pint of something! Cheap and cheerful bar snacks available (burger and chips etc).
---
October 2008


- Mrs R Goble
Nearest beach
Aptly named because of the mine located directly above it, this beach is mainly sand and rocks. It forms part of the Tregardock beach area with Trerubies Cove at the southerly end. With limited parking this beach is rarely crowded and offers a wide sandy area at low tide. Whilst not recommended for swimming, there are some great rock pools and dogs are allowed year round. Do watch out for the tide!
July 2021
Great walk but not for the faint hearted
We had a van and be waned the parking is very limited , but well worth it.
You follow the path down to the cove, but be aware that the last part is over boulders marked in yellow arrows, at one stage we could not work out where to go but locally a surf boarder showed us the way.
The beach is lovely at low tide but you must be aware of when high tide is, so worth a visit even if the walk back up makes you puff.
Nearest walk
Home to the highest church in Cornwall, St Breward is a village and parish on Bodmin Moor. Explore nearby and visit St Breward's holy well, the famous Tors on the moor and the stone circles on King Arthur's Downs.
October 2020
P Boorman
very welcoming good wholesome food
---
May 2011
St Breward circular walk and The Old Inn
Wonderful walk of just under 3 miles. Passes over moorland, through woodland and alongside a stream. Lovely far reaching views. We ended up at The Old Inn for a well earned pint! Good dog friendly pub that serves food.
Nearest town
A busy old market town, Bodmin has some very interesting architecture, including the notorious Bodmin Jail.
March 2012
Friendly small town
Bodmin has an award winning tourist information office and lots of little cafes and tea rooms if you fancy a snack. Also has a good selection of shops and several nice pubs.
Also nearby
This 15th Century village pub was once home to the masons and craftsmen who constructed the nearby church of St James the Great. Today, you will find a welcoming bar and restaurant, with blazing fire in the winter, and a large beer garden for those balmy Cornish summer evenings. Look out for the resident ghost.
May 2022
Excellent pub
The food was very good and the staff friendly and efficient. It is in the middle of the country so you need a car to get there. You need to book to be sure to get a place.
---
October 2021
Fantastic Dinner
We went to the St Kew for dinner, and what a dinner! Lovely atmospheric rabbit warren of a building, warm and smokey (check the menu!). Food and drink were both excellent, and the staff friendly and helpful
---
June 2021
Sue
Due to COVID, we booked the St Kew Inn well in advance of our stay at the Carriage House.
The pub is within walking distance from the Carriage house, down hill all the way, but consequently up hill all the way back!
The food was delicious, service extremely good, and a bonus for us was meeting our waitress, Faye, who happily gave us some suggestions as to what to do whilst visiting Cornwall. The first was to cycle the Camel trail from Wadebridge to Padstow. It was a truly stunning way to visit Padstow. And on our second visit to the pub Faye suggested we could visit Charlestown. Again, we are so grateful for that advice. We wouldn't have experienced either had it not been for Faye.
The 'fish of the day' was well worth it too!
We felt very safe, and all the measures to ensure that guests met the government guidance were in place. Thank you to all at the St Kew Inn.
---
May 2021
Hidden Gem
We had two meals at St Kew Inn whilst on holiday in Cornwall and thoroughly enjoyed both meals. The service was attentive but not intrusive, the food was absolutely delicious and there is a good choice to choose from. Good beers and good prices too, if we go back to Cornwall we will definitely be booking a meal at St Kew Inn.
---
October 2020
St Kew Inn
Excellent food and friendly service to our party of six. Would recommend fish meal of the day.
---
October 2020
P Boorman
excellent food very friendly staff
---
January 2020
Very good food
Lovely food. Service was a little slow at lunchtime but they were aware of this, apologised and tried to resolve.
---
August 2019
So good we visited twice
Superb food, varied menu, good service. We were a group with 4 vegans and 2 carnivores and we all thought this Inn was top notch.
---
July 2019
A must visit
Fantastic pub, great menu for veggies, beautiful garden and loads of space
---
May 2019
Excellent Food
The St Kew Inn does excellent food. It is not cheap but very good value for money. My wife said that the hake she had one evening was the best fish she had tasted for many years - cooked to perfection. You need to book early to get a table in the restaurant, but can also take pot luck in the bar where the tables are not reserved. The staff are very friendly and helpful.
---
May 2017
Best pub in the arae
Excellent pub food. Best in the area. Good real ale and great pub food consistent performance and very popular so need to book in season.
---
September 2012
idyllic country pub
A warm welcome and helpful staff. The food was great - the haddock kedgeree was worth the trip alone.
---
June 2009
Great country pub
Great atmosphere and food. Nice seating inside and outdoor summer barbeque.
---
February 2009
Beautiful and Atmospheric
Picturesque 15th Century village pub serving beer from wooden barrels and excellent homecooked food prepared to order by hosts Paul Ripley and Sarah Allen. One of the most beautiful and atmospheric pubs in Cornwall.
- Mr and Mrs Whitten
Explore the magnificent Lanhydrock House. Steeped in history and encompassed by flowing grounds, the castle allows visitors a sneak peek into the lives of both the aristocracy and the servants who lived there. Bikes can be hired to explore the ancient woodlands and peaceful riverside paths, too.
June 2022
Mrs French
Fantastic place to spend a day
---
May 2022
Beautiful gardens
The guides in the house were very friendly and knowledgeable. The gardens in spring are beautiful with bluebells everywhere and the spring bushes in full bloom.
---
June 2021
Beautiful and interesting
Well worth a visit. The National Trust as usual have brought this lovely house and gardens to life making it an interesting place to visit
---
September 2020
Very interesting visit
Excellent for walks and bike trails .
Close to Bodmin but unless you like the steam railway nothing there.
---
September 2019
Great place, nice house
Top!!!!!
---
May 2019
A good day out
Lanhydrock House and Gardens are well worth a visit. The house is interesting and well presented and the gardens were a mass of colour when we visited. There are also plenty of woodland walks for those who like to be energetic
---
April 2016
So good we went twice :-)
We're NT members so usually visit nearby sites when on holiday. Highlight of this property was the amazing mountain bike trails. We'd brought bikes with us, but did hire mountain bikes for some. Friendly and helpful staff and well marked trails made it the highlight of my 7yo's holiday! We also enjoyed gardens (including Easter egg trail) and house
---
September 2015
We thoroughly enjoyed our visit to the historic Lanhydrock House. First we used the cycle paths which the children (aged 5 and 8) really enjoyed. We then visited the house and gardens and were taken back in time. The children loved following the trails and it kept them entertained. The staff were extremely helpful. A great place to visit.
---
November 2014
Well worth a visit
Lanhydrock has something for everyone. The house is really interesting and the friendly guides are knowledgeable about its history. Although I didn't visit the formal gardens on this occasion, I did join an organised estate walk, which was led by rangers who were most informative and, again, very friendly. We had lunch in the restaurant, which was tasty and fairly priced. We would certainly recommend a visit.
---
March 2013
Lanhydrock House and Estate is between Bodmin and Lostwithiel The National Trust House provides a wonderful insight into local history and you can also walk the estate, free of charge, by parking in the car park down by the river, close to Respryn. River side footpaths take you through wooded areas which are covered with wild flowers.
After a good walk you can drive towards Lostwithiel, on the back lanes, to the Duchy Nursery for lunch. Not only is it a pleasure to wander among the plants and trees but the shop and restaurant are designed to add ambience to the whole experience. 5 star

---
April 2012
The house and grounds are beautiful, quite a sight as you walk down the drive from the car park. The grounds themselves offer lots of different walks, but the one that goes down to the river then back through the woods is my favourite.
---
October 2008
Lanhydrock
Magnificent late Victorian country house with expensive servants' quarters, gardens and wooded estate near Bodmin.
Visiting this house entails a drive, but it will provide you with a full day out. The house itself is fascinating, mostly because it has been wonderfully Victorianised in every detail - the kitchens, dairy and pantries are extensive - and the history of house, as well as that of the last generation of Robartes to live at Lanhydrock, gradually unfolds as you move around the house (with, of course, the help of National Trust volunteers). There are various options for lunch (picnic, cafe, restaurants) and the grounds are a joy to wander around afterwards. There are quizzes for children and the option of driving right up to the gate if a member of your party can't manage the walk down the drive.

- J Wallwork
---
July 2008
Popular Lanhydrock
Well worth a visit for the grounds as well as the house. The kitchens are a real eye opener with all the old utensils. Walk down through the grounds to the River Fowey and the beautiful old Respryn Bridge. If you prefer you can drive down and park beside the bridge. Lovely walks beside the river.



Be transported to faraway lands at the wonderful Eden Project. An educational charity and social enterprise, the Eden Project teaches visitors all about global environments and the importance of sustainability. Get lost in the tropics before stopping in the Med, who knows where your day could take you.
June 2022
Mrs French
overpriced, overcrowded
---
October 2021
Eden Project
We enjoyed our visit but the standard of catering was dreadful and it somehow didn't quite live up to our expectations. Worth going out of season. Car parking quite a way from entrance.
---
September 2020
Lovely day out
For the quickest route to the Eden Project put the post code in to your sat nav from the cottage .if you follow the brown signs it is a lot further and slower due to traffic. Can be an expensive day out . Take a picnic.
Big queues for food and drinks.
---
September 2019
Eden project and amazing few hours visit
My daughter and myself visited here and we both were overwhelmed by the whole experience, very well laid out and something for everyone.
---
October 2018
Worth a visit
Worth a visit but look out for discount codes or vouchers as can be expensive to get in but ticket valid for a year.
Visited a few years ago so wanted to revisit to see what had changed or improved. The plants in the domes have grown in to good sized plants. A few more sculptures & places to eat.
Vicki T
---
April 2016
Great for families
We've been several times and always had fun. You can get annual tickets when you gift aid your entry which is very worthwhile as it isn't cheap. Went twice over Easter week once going in as it opened and enjoying the biomes in the pouring rain! Core building also great for kids and not as busy as biomes. We went again later in the day another day and discovered that you can have an evening meal in the Mediterranean biome midweek from Easter to October which was a lovely treat and then they give you a lift back up the hill afterwards! Staying til it closes gives you a quieter time too!
---
August 2015
Amazing place, well worth a visit
---
August 2014
A fun day at Eden
Myself and my two children (aged 4 and 7) visited Eden Project during the school holidays. We had a great day out which was enjoyed by all. The Biomes were busy at times but there was plenty of little hideaway places outside to get away from the crowd and recharge the batteries. We took our own picnic so don't know about pricing / food of the onsite eateries but I can say that the ice creams were lovely and in my opinion great value at £2 each.
---
November 2012
Simply great !
Last year we bought an annual ticket and could visit The Eden Project 3 times. Every time we went it was a great day out !
---
October 2012
Eden Project
Excellent all round.including zip wire!
---
September 2012
We went on a rainy day in the summer hols and understandably everyone else had the same idea so it was packed. It was nice to see the iconic biomes and interesting to look round but we thought it was very expensive for what it was - £60 for 4 of us plus we ate there so an extra £40 for that. We also seemed to spend a lot of time queuing for food, to look round the biomes, for the park and ride etc . We would go back but perhaps out of season to have chance to explore fully. We'd also look round for cheaper tickets!!
---
August 2012
Have wanted to visit here for many years. It was quite interesting, the Biomes were amazing to look at from the outside. We bought tickets from the tourist information centre before we visited which they sell at discounted prices and also went after 3.30pm when entrance is less. The cakes in the cafe were all a bit stale, at nearly £40 for a piece of cake and a drink for 7 of us we thought they would be lovely and were not so good. Maybe it was a bad day for cake. Glad to have visited, would probably only go once.

---
June 2012
good value with stores vouchers....
Visited for the first time 10 years ago, and of course in 10 years it HAS changed...more grown up, but we remarked to each other many times that it didn't feel as "magical" as the first time we wound our way down to the domes. The large 'flags' have gone that marked the way down the paths.....perhaps that was it? entrance was £23 each for adults & £9.50 each for kids....So to be honest we really wouldn't have visited had it not been for a certain store voucher scheme that meant we payed £5 each and the kids £2.50 each ...so we did treat ourselves to lunch..£5 for most mains with salad or new potatoes....YUMMY, filling & VERY good value, with free pitchers of water on the tables and help yourself mugs hang above - all very handy. Plenty to see and do although our kids sped around the place and ended up where they REALLY wanted to be..in the shop. A great day out though , as they slept like logs on the way home!
---
April 2012
What a wonderful way to spend a day. The weather was perfect for us, but that didn't matter as it would be okay on a poor day at Eden. It was early in the year when we visited but still plenty to see and do.
Had lunch there and it was very good value for money.
We will be back!
---
September 2011
Definitely lived up to expectations and has grown considerably in content since our last visit 9 years ago.
---
July 2011
Its excellent, go and have a great day.
---
July 2011
Absolutely fabulous. The highspot of our holiday. So much to see and enjoy, will definitely return.
---
June 2011
We felt that £20 per adult was a lot to pay, yes there was plenty to see; however, on a wet, cold, windy day walking the outside paths was not great.The two domes well worth seeing, but again not worth £40. We came away saying to each other that we felt the Eden Project to be a great Educational Centre for children, schools and colleges to visit, there were other gardens we visited in Cornwall we felt much better value.
---
January 2011
Eden Sessions
There aren't may concert venues where there are no queues for the loo or the bar! A great venue with staff who actually smile - and if you don't like the band you can always wander around a biome (or two).
---
February 2009
Amazing
The Eden Project really is somewhere very special. Leave loads of time to look around and I would recommend staying for the evening as this is when the place really comes alive. The lighting and scenery in the evening has to been seen to be believed, it's so beautiful.
---
February 2009
---
December 2008
A great day out with loads to do for all ages. In winter, skating on the ice rink is great fun and the hot, tropical Biome is a great antedote for the winter blues. There's lots of delicious food to choose from in the cafes and restaurants too.
---
September 2008
Fabulous day out
The biomes are amazing, and the educational centre is interesting too. Watch the film on the making of Eden. It's a good couple of hours long but worth it. With ice skating and gigs playing at this exciting venue too it makes a good day out for all the family.
---
August 2008
Eden Sessions and Biomes
My trip to The Eden Project was amazing. I visited in the summer to see a band and included in the ticket was access to the rest of the grounds; we went early and took a trip around the Biomes before the gig started. The sound quality from the open-air gig was fantastic, I would definitely recommend going if you get the chance (but remember tickets sell out fast!).
---
July 2008
Plants and gigs!
A visit to the Eden Project is a must. The biomes which house the plants from all over the world are amazing! And if you get chance to see a gig then it will be an experience you will not forget - tickets are often sold out!
When you think of a Cornish seaside destination, images of Port Isaac will come to mind. A quintessential Cornish fishing village, it is a popular holiday destination so there are plenty of self catering cottages in Port Isaac to choose from. With fisherman's cottages forming narrow winding streets leading steeply down to the stone walled harbour, dotted with colourful vessels of all shapes and sizes. In fact many of the streets here are so traditional and narrow, including the aptly-named 'Squeezebelly Alley', a car is not an option so leave it behind while you take to exploring the architecture by foot. Many of the old buildings are listed as being of historical importance and certainly add to the ambience. The fishing industry is still at work here, left over from its days as a busy coastal port in the mid-19th Century.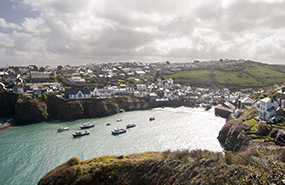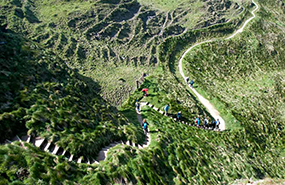 The inspiration for many a painting, there are plenty of photo opportunities to be had with the lobster cages and wooden rowing boats along the harbour wall. Set down on the seashore, the surrounding area is very hilly and steep, which allows for far reaching views, and several pretty streams wind their way down to the waterfront. Take a boat trip for a spot of sea fishing or just a scenic float-along during the holiday season or walk along the coastal path for panoramic sea views and dramatic cliffs.

The village of Port Isaac, is now most recognisable as Port Wenn, thanks to being chosen as the setting for the television series, Doc Martin. However, many other movies and tv programs have been filmed here such as 'Saving Grace' (again, starring Martin Clunes) and 'Amy Foster' with Sir Ian McKellen. It was also frequently used as a set for the Poldark series. The locals are very welcoming and are a tourist attraction in their own right with the formation of Port Isaac's Fisherman's Friends - a group of Cornish shanty singers with a strong following.

A holiday in a Port Isaac cottage will be an excellent way to explore the north coast as there are many good beaches nearby such as the surfing beach of Polzeath and the family-friendly wide stretch of sand at Daymer Bay, which is also dog-friendly. It's only a short drive to bigger towns such as Padstow, famed for its Rick Stein dominated restaurants, and Tintagel with the historic castle ruins. Being on the north coast, it is close to the Camel Trail which follows the River Camel to Padstow, an excellent cycling, walking or horse riding route.


October 2021
Would recommend!
Coastal walk to Portquin is very strenuous but excellent on a clear day!

Would recommend Nicky Bs pasty shop rather than others!

Obviously is a tourist trap so can get very busy and parking is a significant walk from the harbour.
---
August 2021
Boaty speedboat
Excellent trip along the coastline
---
September 2012
Just like it is on the telly!!
Port Isaac is truey lovely to visit whether you are aware of the Doc Martin show or not, but if you love the show a visit here is a must!
---
June 2009
Doc Martin Filming in Port Isaac
They are presently filming a new series of Doc Martin in Port Isaac so keep your eyes open for Martin Clunes and the rest of the cast and crew. And when you get home it's great fun to spot the scenes you saw being filmed!

Made up of half a mile of soft, golden sand backed by rock and cliff, Trebarwith Strand is a National Trust-owned beach near Tintagel. Easily accessible, at low tide a huge expanse of sand is revealed whilst at high tide the sea covers nearly all the beach. Lifeguarded in summer, Trebarwith Strand is a popular spot amongst people of all ages.
June 2022
Great dog friendly beach
Fabulous sandy beach with life guards that is also dog friendly all year. Good facilities - toilets, pub and shop selling icecream and beach stuff - make it the complete package but mind the tide times!
---
October 2021
Ms Harrison
Something for everyone.
---
October 2021
Ms Harrison
Something for everyone.
---
July 2021
rock pools galore
nice beach with life guards. Loved going there at high tide to watch the sea crashing against the rocks. Great place to go to watch the sun set. Tasty Cornish pasties from the beach cafe
---
May 2015
Trebarwith Strand
We walked along the cliff tops to discover this beautiful stretch of dog friendly beach. It is accessed by a rocky plateau but once on the beach there is a long stretch of golden sand with plenty of room for all to play. Lots of body boarding & surfing to be had with places to hire equipment. It's a lovely unspoilt area with a couple of cafes, tourist shops & a pub. Definitely worth a visit.
---
September 2014
Fantastic beach
We were recommended Trebarwith Strand as one of the nicest beaches along this stretch of coastline. It was beautiful. We visited at lowtide, so lots of sandy beach available. The entry onto the beach is past a few cafes (we had an amazing cream tea in one of them = yum) and over a rocky area, before you reach the sand. The rocks themselves are fascinating. The beach is a good size, with rock pools and caves and plenty for all to explore. Some of the roads approaching Trebarwith are steep and narrow - as is often in this part of Cornwall.
---
February 2014
Hidden Gem!
Found the beach by accident whilst staying at Port Isaac and visiting Tintagel.
Beautiful sandy beach,reached by clambering over rocks . Really nice Cafe serving burgers and chips etc. Wish we had time to return another day!

The Melia Family
---
January 2013
An absolute classic!
Trebarwith Strand lies at the end of a narrow lane that descends through a wooded valley to this beachside hamlet. A vast beach at Spring low tides, its only downside is at high tide it is reduced to a modest rocky plateau. Armed with a tide table, however, there is no excuse for at least 6 hours a day on this deeply charismatic beach. Surrounded by an impressive cliff-scape this beach offers caves, huge sand flats, streams and rock pools big enough for the kids to safely swim in. Great surf as well including surf hire and lessons.When the tide does gently nudge the family up onto the rocky plateau, lovely in its own right, there is always the Port William pub overlooking the beach or a variety of cafes and a couple of quirky gift shops to keep everyone entertained. This is also a great place to access the coastal path heading North East to Penhallic point and Tintagel castle or South West to Tregardock beach and Port Isaac. It can get busy in the high season but never on the Polzeath scale and out of season it is usually very peaceful.
Articles
| From around the area