We spoke to the owners of Dominey's Yard Cottages, Adele and Nigel, to hear the story of their build and why they enjoy holiday letting. As previous holiday cottage owners with plenty of experience in holiday letting in Cornwall, they undertook the project of renovating a collection of charming Victorian farm workers cottages into four luxury self-catering cottages set in the idyllic countryside of Dorset.
Dominey's Cottages: the history
Originally a farm, with the main cottage being the farmhouse and the four cottages being one barn divided into a grain store and workshops, Dominey's Yard was previously owned by Augustine Dominey, a Dorset's farmer's son. Augustine moved to Buckland Newton in 1845 and married a baker's daughter who taught him the trade. Together, they started the bakery and grocery business at what came to be known as Dominey's Yard and raised seven children here, two of which took over the business.
The business was successful, and bread was delivered as far as Cerne Abbas, Piddletrenthide and Wootton Glanville by pony cart. After the First World War, the business suddenly took a bad turn. Instead of supplying their local villages with bread, bakers from outside the area were coming into the village to sell there. Unfortunately, the business declined further, and they were reduced to buying very low-grade flour which in turn was the downfall of the business, along with a number of other factors.
In 1961, new owners bought Dominey's Yard and over the years separately purchased the four cottages and some surrounding farmland turning the land into formal gardens. Adele and Nigel bought Dominey's in December 2019 and have spent the past year working on the gardens and the renovation process.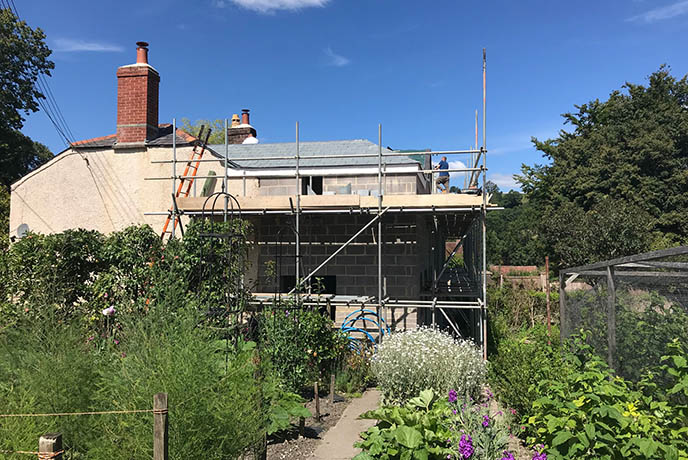 The build: the story so far…
Adele and Nigel said…
'We bought Dominey's Yard in December 2019 and although the cottages were very dated and small, we realised the potential in the stunning location.
In February 2020, having instructed a local builder, we embarked on a major 6-month renovation project to upgrade, extend and transform them into the beautiful cottages that they are today. Original features side by side with all mod cons make the interiors cosy, characterful and tastefully furnished.
We have had various setbacks over the months including a bat roost and then a bee's nest to overcome! The coronavirus lockdown meant that we faced all sorts of shortage of materials, including plaster – like gold dust apparently! The latest delay being the factory making all the windows. Unfortunately, as I write, we cannot get a supply date – leaving us in limbo – we should know more in the next couple of weeks. This means that we are unable to do much more in the cottages such as fit kitchens and flooring etc as the cottages need to be watertight. It is all proving very testing but considering what else is going on in the rest of the world we can't complain – although tell that to my grey hairs!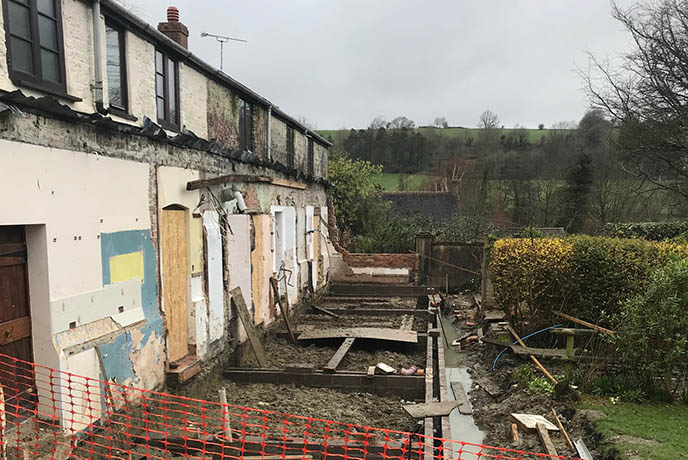 On top of the designing of the cottages we have spent our time sourcing items with which to furnish the cottages. We have tried to create a mix of old charm with a modern twist and each one is slightly different in style. We decided to go with a countryside theme for the names of the cottages; Poacher's, Gamekeeper's, Woodcutter's and Gardener's, with the décor inside having a subtle nod to their names. Three of the cottages will sleep four guests and the fourth one will sleep six. We have created a private patio and garden for each cottage and, together with the rest of the stunning gardens we have here at Dominey's, it should prove to be an idyllic sanctuary for our guests to get away from it all.'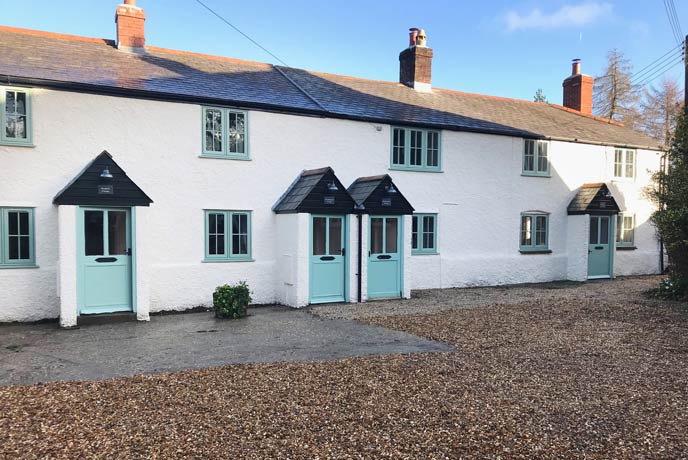 The owners: our story
'Nigel and I met in Bournemouth 26 years ago when I started working as a receptionist at his family run chain of hotels on the Westcliff. I would say it was love at first sight, but he didn't pop the question until 17 years later - he obviously doesn't like to rush these things!
During the past 26 years, we have acquired a mass of hospitality knowledge and for the past 10 years we lived in Cornwall running our holiday cottage business. It was a lot larger than Dominey's, with six cottages and sleeping 40 people in total. We also had 34 acres and ran a small holding with pigs, sheep, lambs, chickens, ducks and a Shetland pony called Billy.
When we sold in August 2019, we came back to our hometown to rent for a while until we found a new adventure to embark upon. We didn't dream that we would be able to find anywhere suitable in our home county of Dorset or that our budget would stretch, but by chance we came across Dominey's Yard and found it ticked all our 'must have' boxes and more, so we made an offer after the first viewing which was accepted.
We are delighted to be back in the business we love and can't wait to welcome new and familiar faces to our wonderful new venture.
Having spent the past ten years owning a large holiday cottage business in Cornwall, we have a wealth of experience and knowledge in providing a perfect holiday setting for guests to relax, feel at home and make wonderful memories.'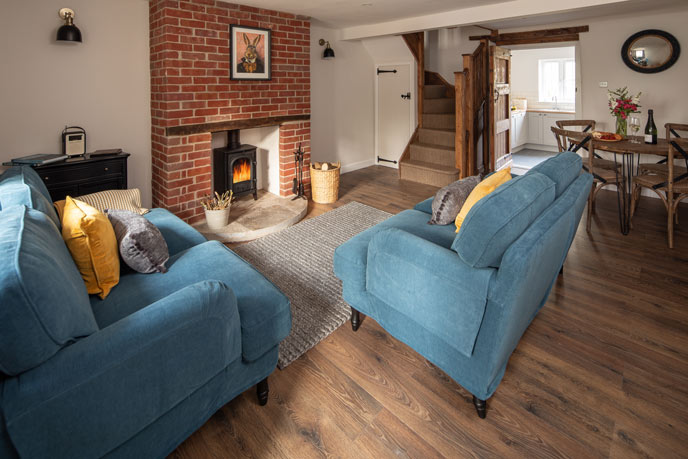 Why we chose Classic
'Having worked with Classic Cottages for the past 10 years with our previous business in Cornwall we didn't hesitate to carry on our relationship going forward with our new venture. The way the company markets itself and the cottages is very much our style on showing that holidays are definitely part of life and the service and attention to detail that they provide, along with a portfolio of high quality cottages are the reasons why we chose Classic Cottages as our agent.'
Take a look at Poacher's Cottage, Gardener's Cottage, Woodcutter's Cottage and Gamekeeper's Cottage for a wonderful Dorset holiday.