Discover a cosy hideaway to snuggle up in with your SO this Valentine's day.
Take some time out this Valentine's day. Book a holiday cottage in the south and west and get away from it all. From cosying up by a roaring fire to enjoying a glass of fizz in a hot tub under the stars, there are plenty of ways to make the most of your quality time together. You don't even have to leave the luxury of your holiday let.
Come February the weather is starting to warm up and you might even see the odd snowdrop if you're lucky. For those who like the wind in their hair and some mud on their boots, this is the perfect time to visit the south and west. Take a romantic stroll along the coastal path, visit a local vineyard, pack a picnic to feast on in the woods (on a dry day) or visit a National Trust property for something a little more civilised.
The days might be getting longer, warmer and brighter but the evenings still have a little nip to them so you'll want somewhere cosy to come back to after all your adventures together. For Valentines, the bedroom needs to be just right and our cottages have certainly got beds that will make you want an early night and a long lie in the next day.
Snuggle up with your significant other in one of these beautiful beds. Perfect for celebrating Valentines together.
9.3 miles NE of Honiton | Sleeps 8 + cot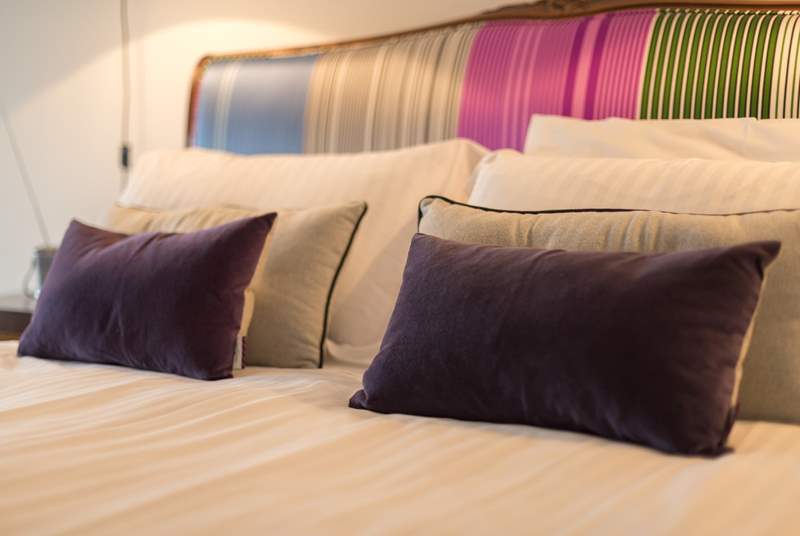 A gorgeous designer bed in a beautifully designed property. This super king sized bed is ideal for a romantic Valentine's day snuggle, with enough pillows to make sure both you and your beau are comfortable. Every detail has been thought through in The Cow Shed. From shelving in the kitchen to a luxury hot tub to gaze at the stars in the evening, you'll find everything you need has been carefully considered. With enough space to sleep 8, you can share this modern Devon retreat with friends for a fun week away.
3.1 miles SW of St Ives | Sleeps 2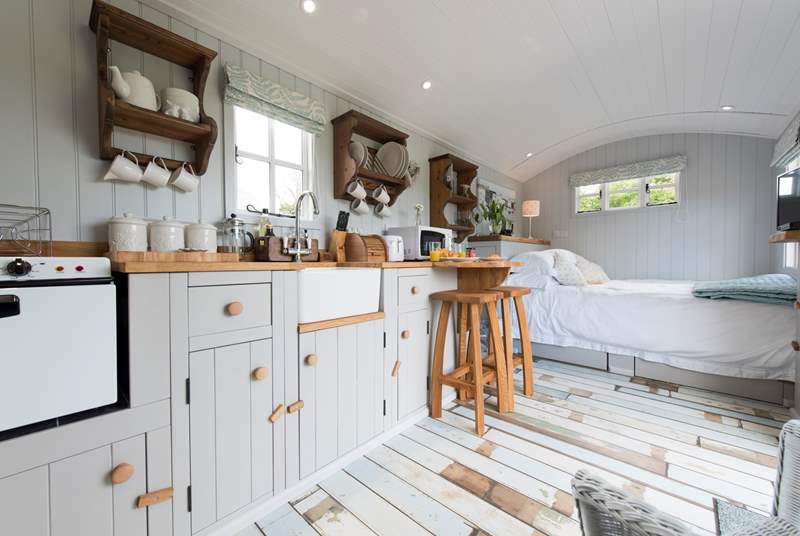 The bedroom of the Shepherd's Hut is also the kitchen. And the living room. All in one. That's the beauty of a hut. Built just for two, this is the perfect couples bolthole to get away from it all. Spend your weekend living simply in this gorgeous spot near St Ives. The interiors of the hut make us swoon but the exterior garden is even more beautiful. Inside and out, every detail has been thought through to make your visit the ultimate romantic holiday.
3.8 miles N of Bodmin | Sleeps 10 + 2 cots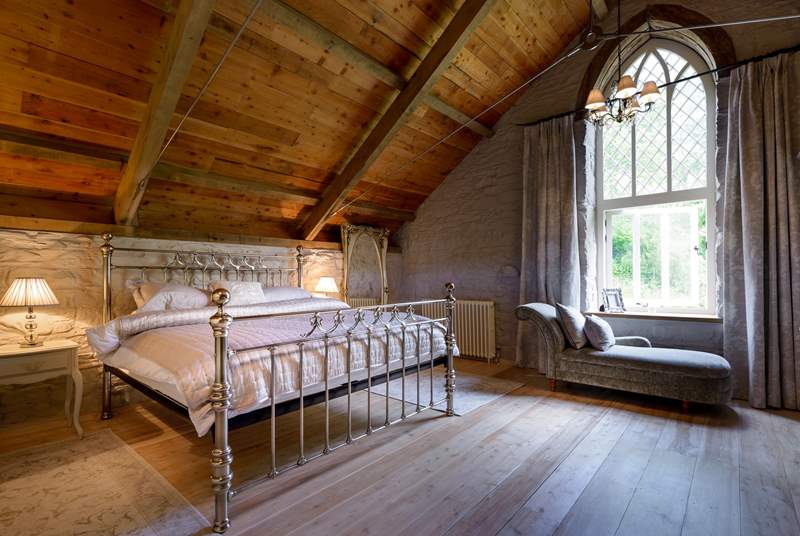 One of five gloriously gorgeous bedrooms, this is the master bedroom at Lavethan Mill. A luxurious haven to hide in with your beau, the rest of the house is just as lovely. Gather all your friends and head off on a romantic jaunt together. Be sure to call dibs on this room before you get there, though.
1.4 miles N of Crewkerne | Sleeps 2 + cot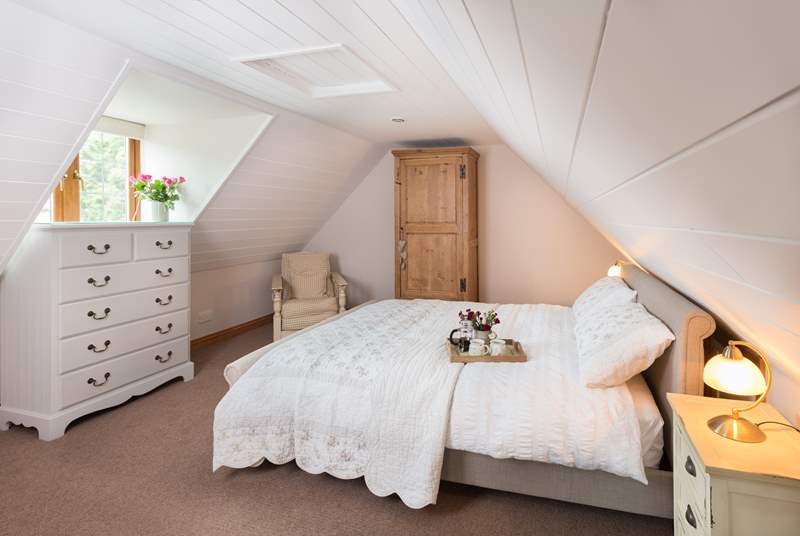 The Coach House is a pretty little couples bolthole in Somerset. It's idyllic location means visitors benefit from beautiful views all around the property. There's also a pool and tennis courts to keep you busy without having to use the car. A perfect hideaway for a romantic long weekend together.
2.2 miles NW of Dartmouth | Sleeps 5 + cot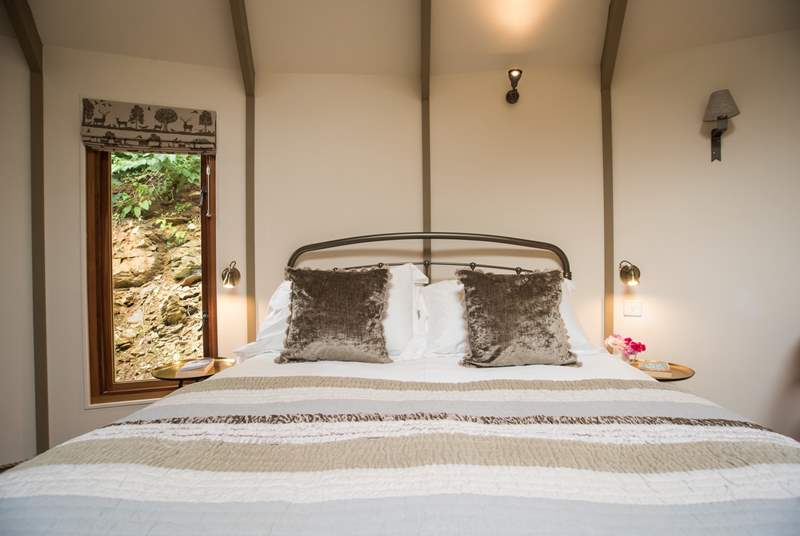 A cosy retreat to hunker down in. This king sized bed is in the master bedroom of a quirky yurt hidden away in the trees. You're up close and personal with nature here but under floor heating and a wood-fired hot tub keeps this property incredibly luxurious. Plus, as it sleeps five, you can bring along the kids to celebrate Valentine's day together. Whether you're looking for a short weekend break or a week long forest adventure, the yurt is great for a family getaway.
5.3 miles N of Falmouth | Sleeps 2 + cot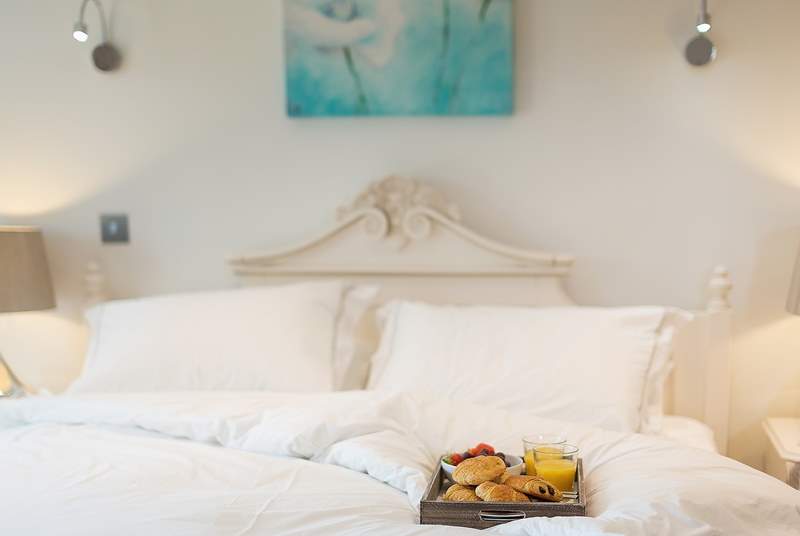 Bright, light, warm and cosy. This beautiful bed will be found at Cedar, part of the Emerald, between Falmouth and Truro. The pretty details of the headboard and luxuriously crisp bedding make this a stunning spot to enjoy breakfast in bed together on Valentine's day. Whether you go for french pastries or a simple bowl of porridge and fruit, this is an idyllic property to make the most of a wonderful Valentine's break.
Lymington | Sleeps 4 + cot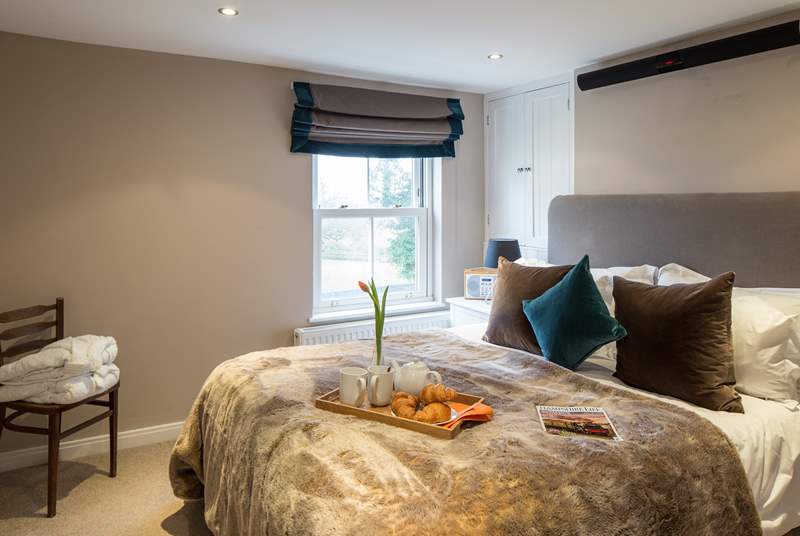 Cosy and calming with fur and neutrals, this bedroom is a luxurious home away from home to enjoy with your darling. There are plenty of pillows to keep you comfortable, fluffy towels for long showers and a pretty view out of the window. What more could you need for a romantic Valentine's day in together?
2.4 miles NW of Dartmouth | Sleeps 2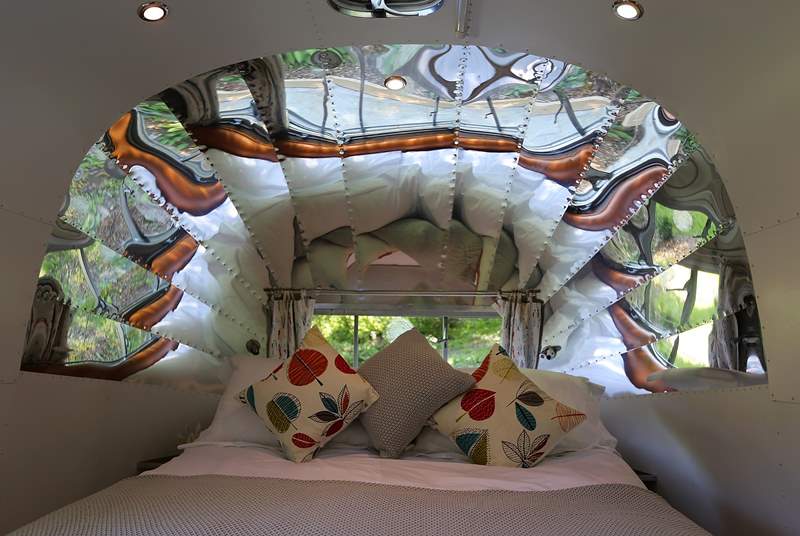 Possibly the quirkiest bed you'll ever sleep in. Airstream 1234 is a fantastic place to stay for something a little bit different this Valentine's. The shiny exterior oozes vintage cool and will remind you of times gone by. But don't be fooled, this American icon has all the mod cons you could need, including wifi and under floor heating. A cosy bubble of tranquillity away from the hustle and bustle.
4.5 miles E of Dulverton | Sleeps 2 + cot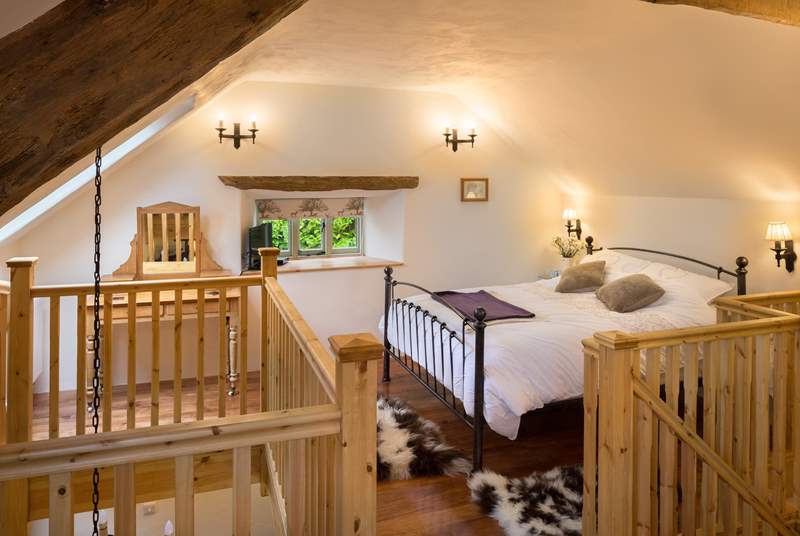 The beautiful beams and warming lamps make this a lovely bedroom to cosy up in together. The window opposite the bed gives you a stunning view to enjoy as you while away the hours whispering sweet nothings into each other's ears. The fur rugs, iron chandelier and roaring fire turn this cottage into a rustic retreat fit for the finest of couples.
3.9 miles E of Ilminster | Sleeps 2 + cot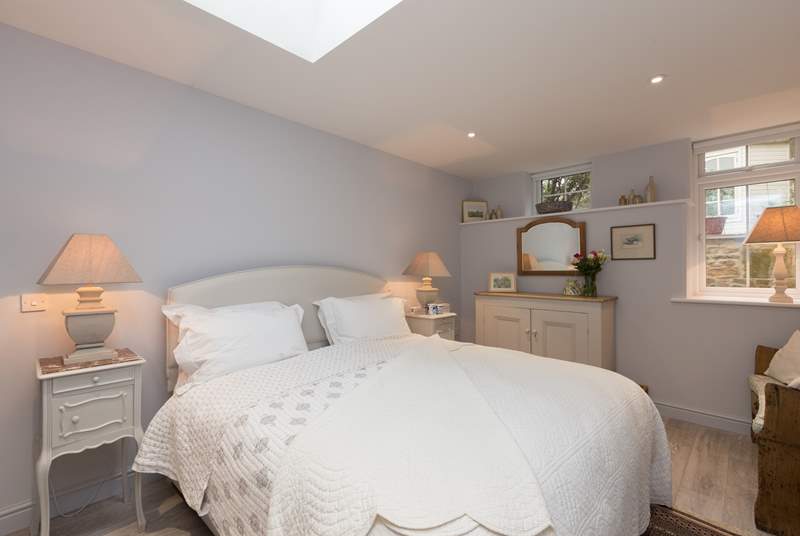 A neat little cottage hidden away in south Somerset. We like this bedroom for it's clean, crisp feel and the warm atmosphere. There's plenty of layers to keep you cosy from chilly February nights and the cottage is an incredibly pretty place to spend a quiet weekend in each other's company. Once you're here, you'll never want to leave.
4.7 miles NW of Looe | Sleeps 2 + cot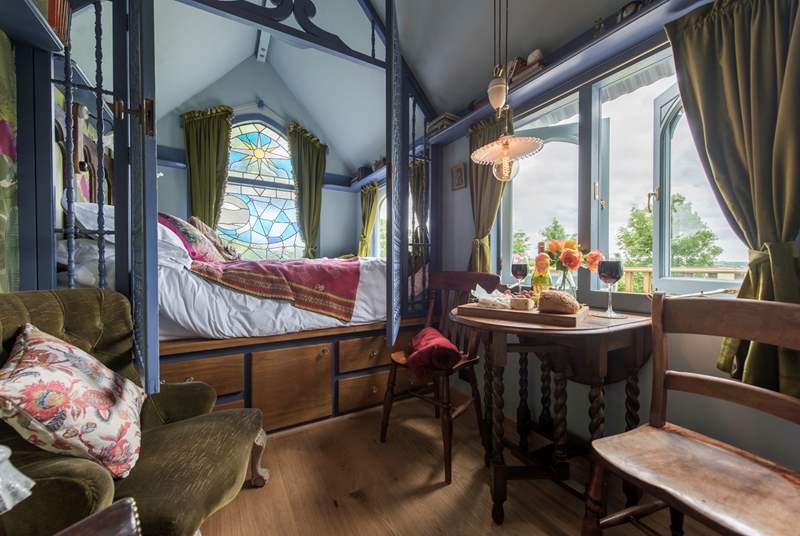 A true curveball in a list of fairly modern bedrooms, this dreamlike abode is a small Cornish bolthole with beautiful finishing touches. A stained glass window looks down on to the bed. There are shutters on the bed so you can really close yourselves in and get super cosy. The outside looks like a children's wendy house, painted bright blue, the only thing that suggests this might be an adults-only hideout is the wood-fired hot tub out the front. Perfect for a quick dip in the evenings with your beau.
4 miles W of Marazion | Sleeps 2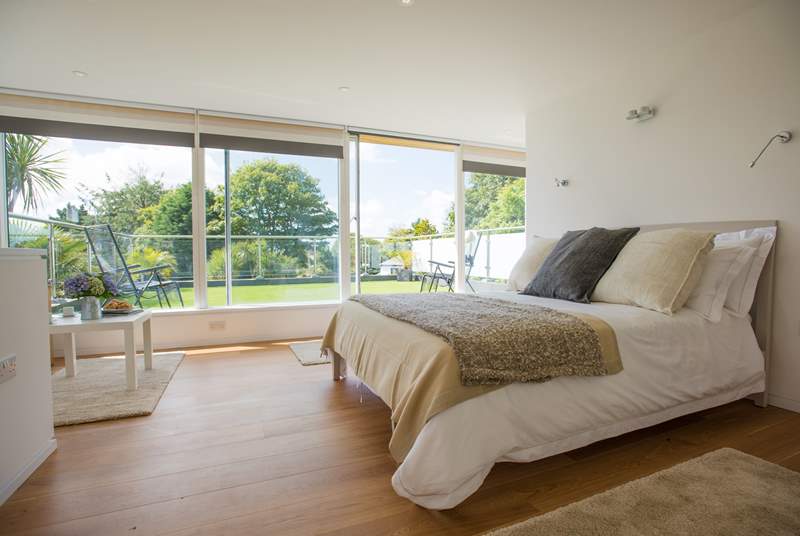 Simple and pristine, the Garden Cottage makes no fuss when it comes to the bedroom. Wonderfully comfortable with a stunning view from the balcony over the owner's garden, this a gorgeous haven to curl up in with your significant other and watch the world pass by.
1.2 miles NW of Wembury | Sleeps 2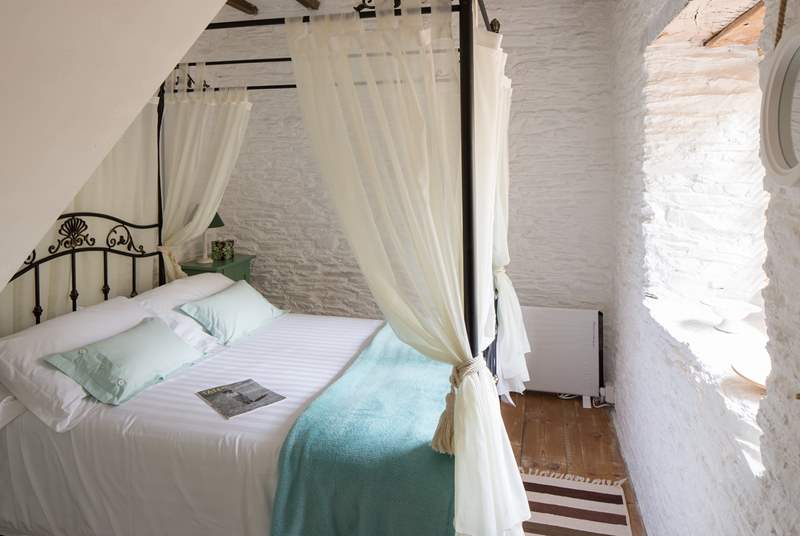 Like something out of a fairytale, this four poster at Princes Granary reminds us of Sleeping Beauty. Wake your true love with a kiss every day with a stay here (and enjoy the beautiful rolling hills of south Devon). A lovely view and rustic interiors make this cottage a lovely spot to hide out with your Valentine.
We have plenty of properties available for Valentines breaks across the South and West.