Welcome trays for your guests
How to holiday let

We all know that accommodation can make or break someone's holiday. Whether you've had a day on the beach or are tucked inside from the rain, having a luxurious home-from-home can make all the difference. At Classic, we go the extra mile to give our guests the ultimate South West break; however, there may be a missing trick.

Hampered by long drives and traffic, the idea of arriving at a beautiful cottage is the light at the end of the tunnel. Tired and ready to settle into a dream holiday, throwing open the doors to a tidy, clean cottage is the icing on the cake. What better way to start a holiday, you might ask? Well, a lovely welcome tray adds the perfect final touch.

Whether you'd like to prepare a luxury welcome tray, or simply leave a personalised greetings card with a bottle of vino, that extra effort makes a wonderful first impression. There are plenty of ways to surprise your guests with an unexpected treat, from a goody-tray made up of local delicacies, homemade cream tea with yummy jam and cream, to some fruit of the fresh or bottled variety. Even a small bunch of seasonal flowers can add a homely, personal touch that will stand you out from other holidays, and your guests will really appreciate the extra thought.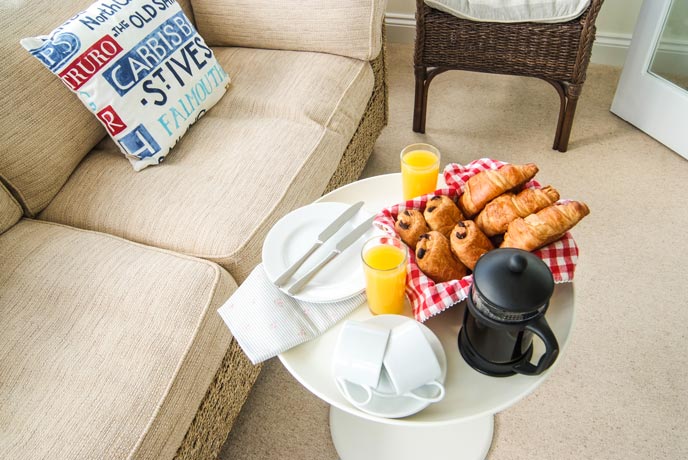 If you don't have time to prepare food, fear not. Just leaving some basics like milk and a little jar of tea or coffee will make a huge difference to your guests' arrival. A great portfolio of pictures and information is really important, but having guests that can walk into the reality and say "wow" will take your cottage to the next level. Not only will you provide your guests with the holiday of a lifetime, you also encourage them to come back for more and create the perfect ambassadors for other potential visitors.
That said, it's not just two-legged visitors who appreciate a warm welcome. Over the years, our canine companions have established themselves as core family members and when they're happy, we're happy. If you have a dog-friendly property, why not leave out a little basket with some goodies? An old blanket, towel, pooh bags and a couple of chewies work to keep both your cottage cleaner and all of your guests entertained.
However far you want to go, the personal touches really make a big difference. Whether your guests are old friends or first-timers, offering a welcome surprise will add a whole new dimension to their holiday and leave them wanting more.